Word and Photos | Stephan Bauer
For hi-res gallery click HERE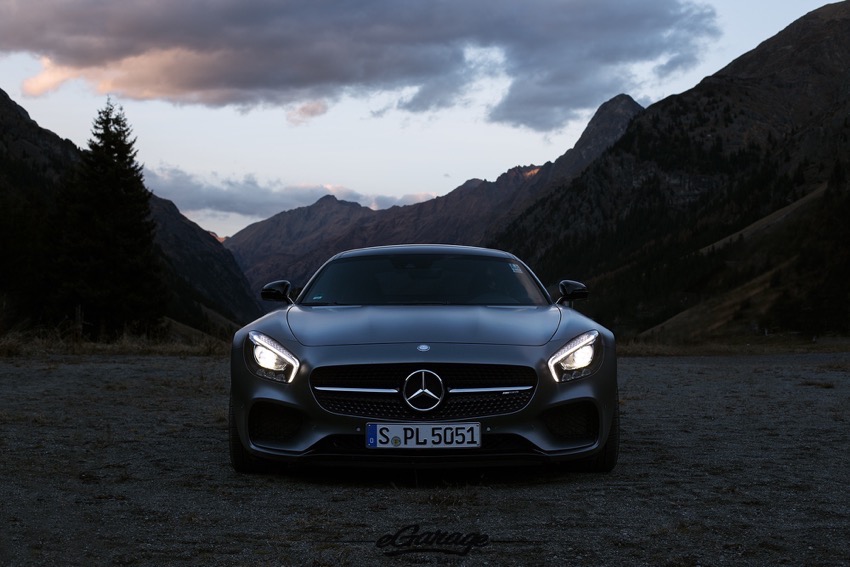 I was born in Austria but I grew up in North America and, as soon as my passion for cars developed, I often dreamt of a road trip through the Austrian Alps. I remember flying to Vienna to visit family and then heading to the Austrian Alps in a family friend's Audi Avant to go snowboarding with my father. I always thought to myself how incredible it would be to drive those phenomenal mountain roads in a sports car. As an automotive photographer, l sometimes get the pleasure of driving interesting cars but I've still not checked off the bucket list item of driving in the Alps. Like any other automotive enthusiast, a mountain road with endless twists, turns and switchbacks is driving nirvana.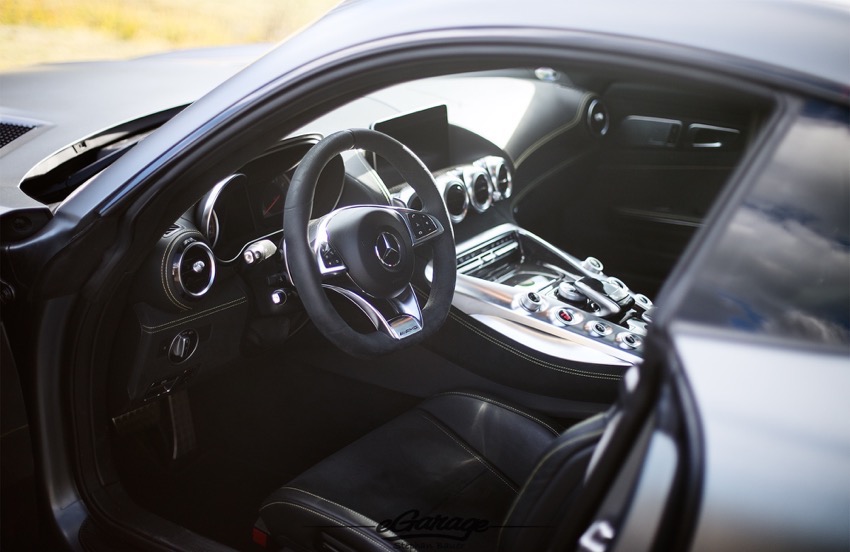 Fast forward to now, I've recently moved back to Europe and now live in Munich, Germany. The dream still lingers and with the Alps just a few hours away it needed to be done…I needed to live this dream. In early November, I was finally given the opportunity to check this off my bucket list. After some talks with Mercedes Benz, they offered to lend me their new flagship sports car, the AMG GT-S for 3 days, with the only request that I bring back some brilliant imagery.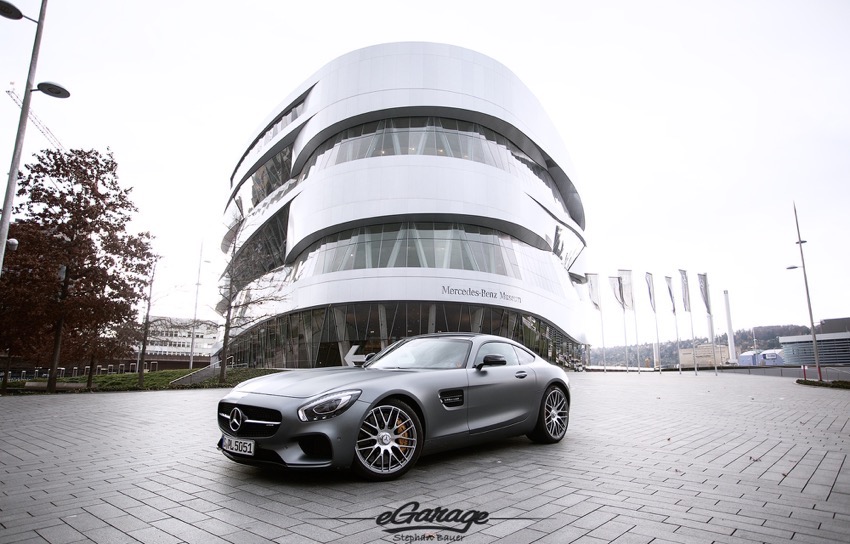 I picked up the car on a Monday morning in Stuttgart and the first thing I did was drive the car to the incredible Mercedes Benz Museum. Then, after breakfast with a friend in Stuttgart, I hit the road and plugged Imst, Austria into the GPS as my first rough destination. I didn't have much of a plan of where i wanted to take the car, but I knew I needed to get into the heart of the mountains.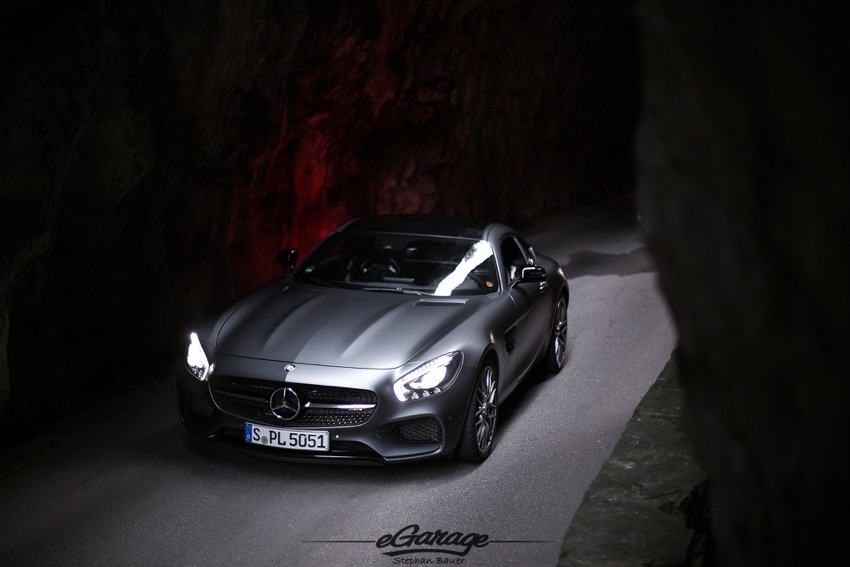 Autobahn blasting in the 510bhp GT-S was incredibly fun but when I turned off the highway is when the car truly came to life. I was pleasantly surprised how nimble the GT-S was. The car was truly more in its element in these mountain roads than its predecessor the SLS was, and that 4.0L BiTurbo V8 sounds truly orgasmic. AMG knows how to make a proper, barking V8 even if it isn't naturally aspirated.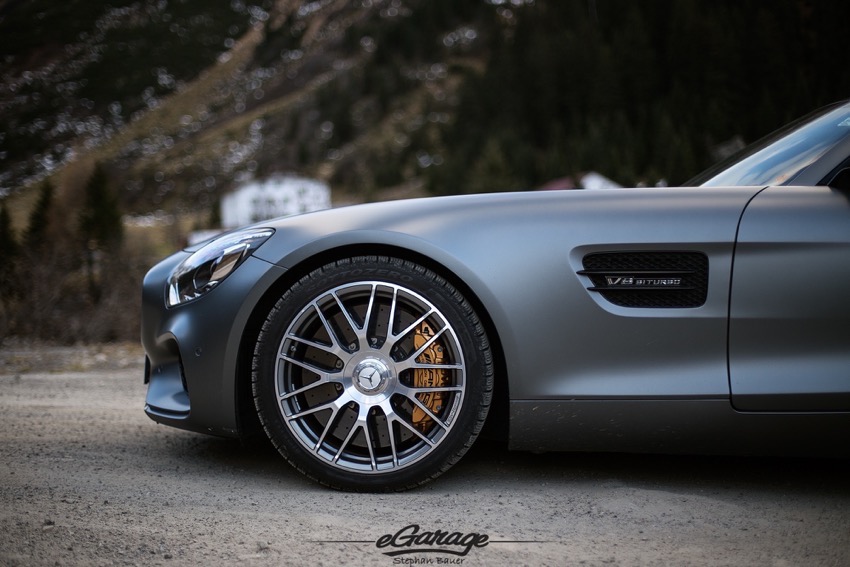 The GT-S became familiar quite quickly and the chassis shrinks around you. Being so wide, the GT-S is probably not the ideal first candidate for these narrow mountain passes, but I got used to the size and the car holds its own blasting up and down a mountain.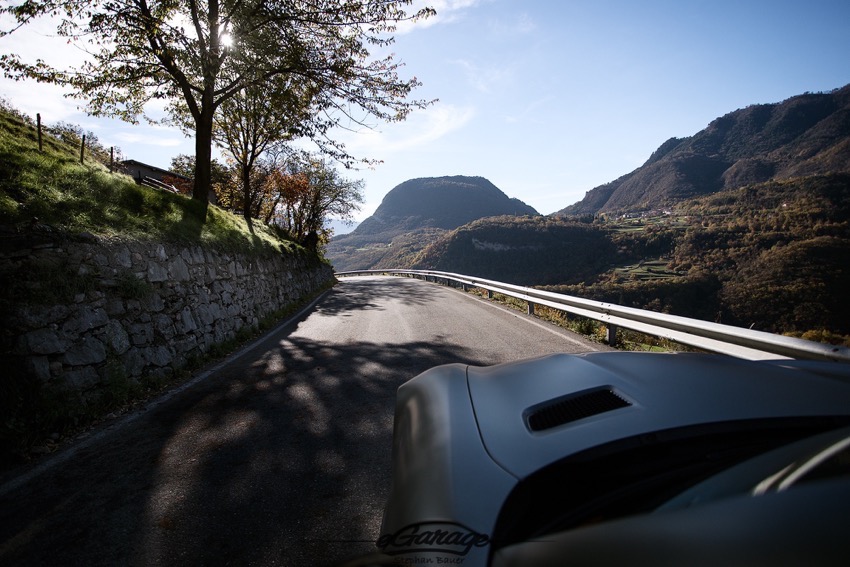 I headed to Pitztalerglacier, a glacier I would frequent with my father to go snowboarding. The location did not disappoint as I was able to find a perfect outlook into the valley between two mountains as the sun set over the alps. Snowboarders and skiers were quite surprised to see the AMG rumbling around as they were ending a day of skiing.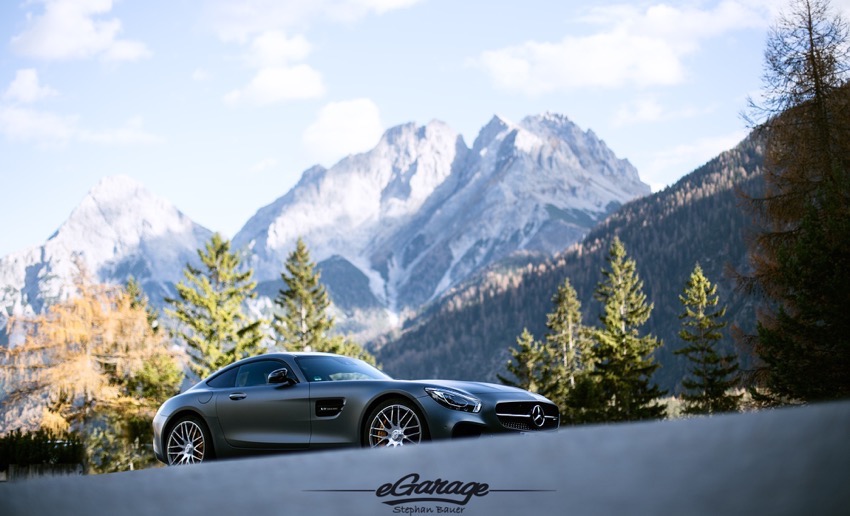 I originally planned to do some night shooting in Innsbruck but after the long day of driving and shooting I was too tired. The 2 attempts I made in Innsbruck were quickly shut down by police asking me to move the car immediately. It was a sign, call it a day and get some rest.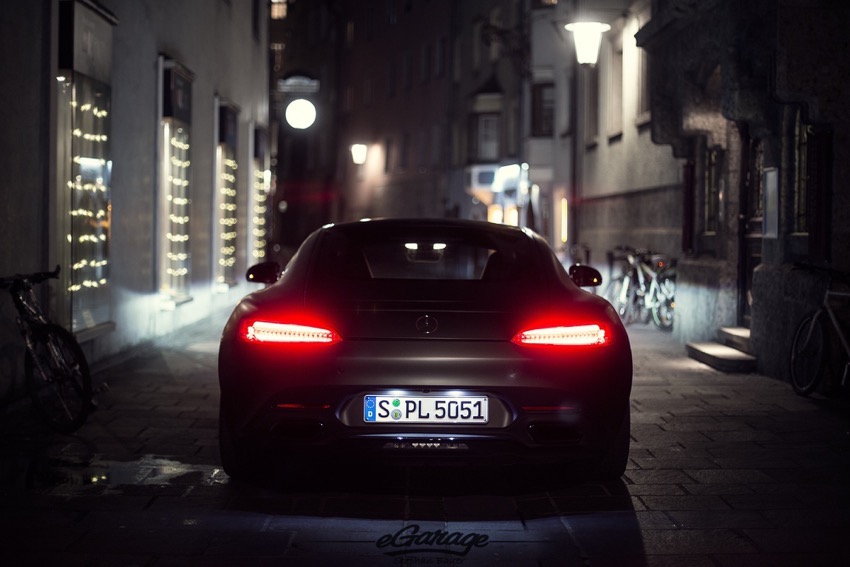 Day 2 started bright and early before the sun rose over the mountains. I met my friend Marcel at the hotel lobby at 6am to begin the second leg of the journey. Marcel has lived in this area of Europe most of his life. Today's plan was to shoot the car at sunrise in the mountains around Innsbruck and then make our way down to Lake Garda in Northern Italy. We would take only mountain roads in hopes of finding some incredible locations and outlooks along the way.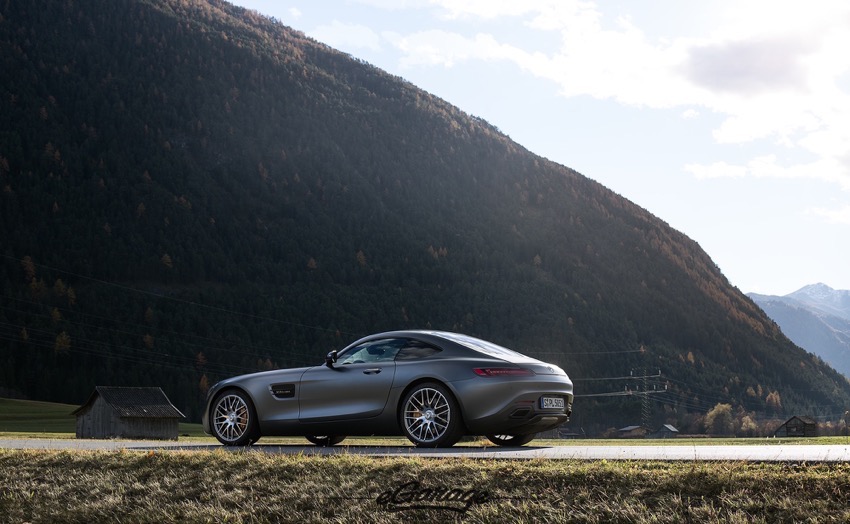 Catching sunrise in the mountains during winter is always tricky, because the sun always stays quite low and when you're in the valley between two mountains you risk not catching any direct sunlight at all. Unfortunately the location Marcel recommended wasn't ideal for the sunrise in winter, so we had to try to find something a bit higher up to catch a bit of direct sunlight. We ended up doing a bit of light off-roading in the GT-S when we found this direct path that seemed to lead up the mountain with a promising outlook. It was pretty funny seeing the AMG driving up this small dirt path normally meant for tractors up a mountain, but the car didn't skip a beat.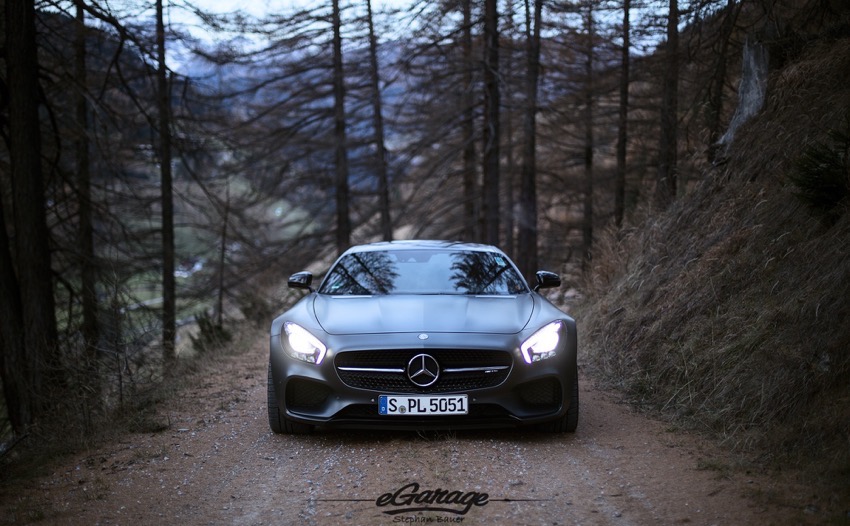 The next hour or so of driving lead through some gorgeous sweeping mountain roads before grabbing breakfast in a little village about 10 kilometers south of the Austrian border. At breakfast, we did a bit of research and route planning to find the best possible picturesque route to Lake Garda, we stumbled upon what looked like an incredible tight /switchback mountain pass that took us to to 2,800 meters.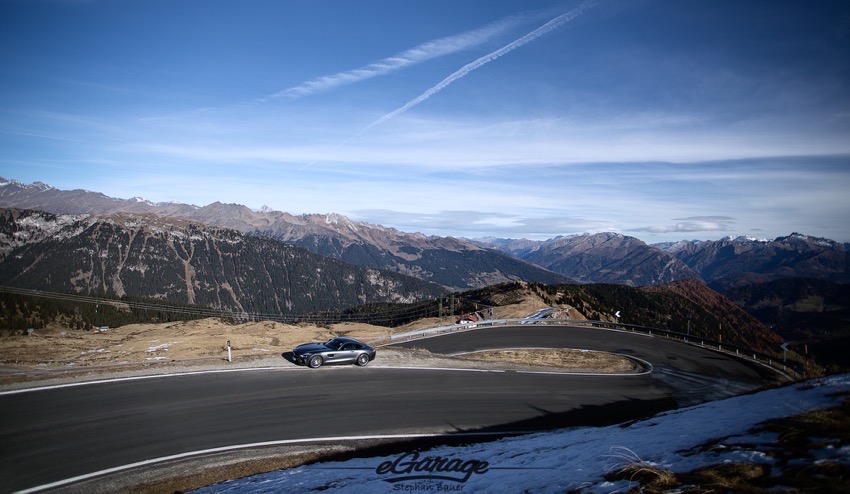 Without knowing exactly what was in store for us, we set off in direction of Josefpass, and it did not disappoint. It was one of the most incredible roads I have ever driven. We had the whole mountain road to ourselves, and on the rare occasion there was a car in front of us, the AMG had no issue overtaking with its 510 ponies on tap. At the top, a breathtaking view of the Italian and Austrian Alps coupled with the gorgeous design of this amazing Mercedes-Benz. It was one of those pinch myself moments. I was finally experiencing something of which I had only dreamt.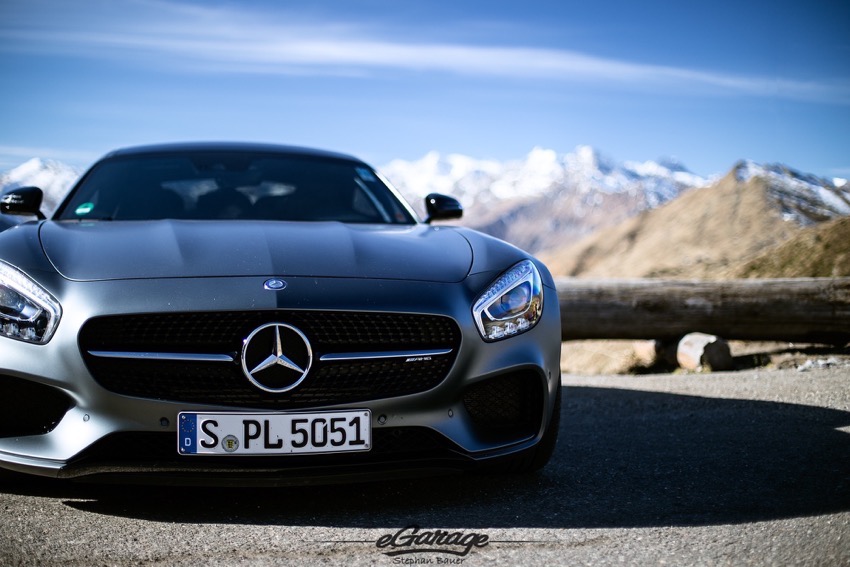 Having lost my father earlier this year, the moment was particularly emotional for me. This is something I had always dreamed of experiencing, and it's something I would have loved to have shared with him. I know he would have absolutely loved to have been there, being a big petrolhead himself and of course being the one who shared his passion with me. I think some car guys can relate, that their interest and love for cars was something they shared with their father. My father wasn't a big Mercedes guy, but I think he would have really liked the AMG GT-S.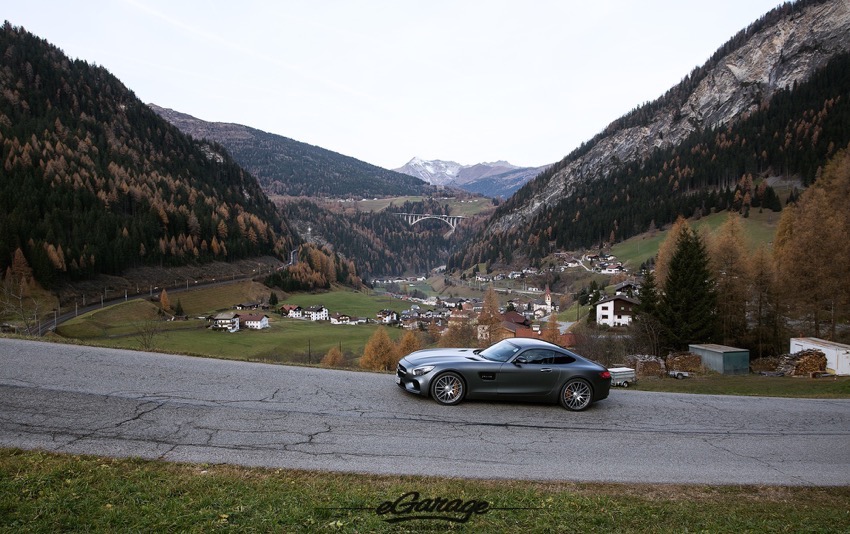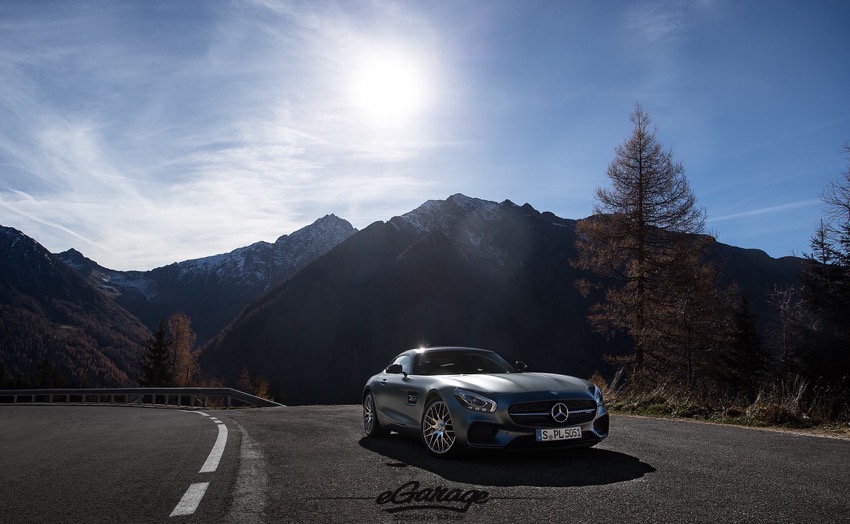 We eventually made our way down the other side of the mountain and headed to Riva, the most northern town on Lake Garda. Making our way down the hill into the valley and getting my first glimpse of Lake Garda is another moment I will never forget. The view was incredible. This gorgeous lake nestled between the mountains with light fog hovering over the water…it was a postcard moment.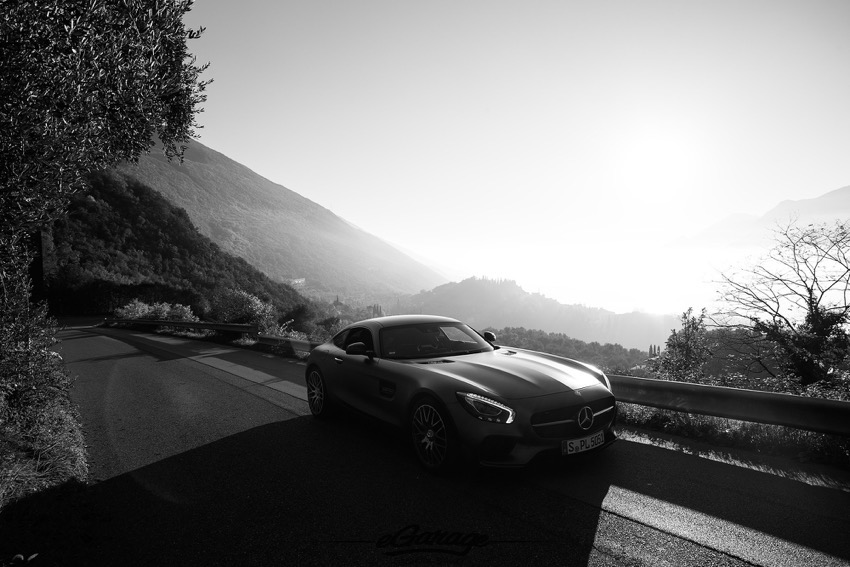 In Riva, as we were taking pictures people drove by give the thumbs up and often yelled out to us "Bella Machina!!!" yup we were in Italy. A very friendly chap with a Alfa Romeo 4C parked his car near us and came over to chat. He had just picked up the car hours prior in Modena and was taking his first drive with his new car. He was an Alfa Romeo collector and this was his 8th Alfa.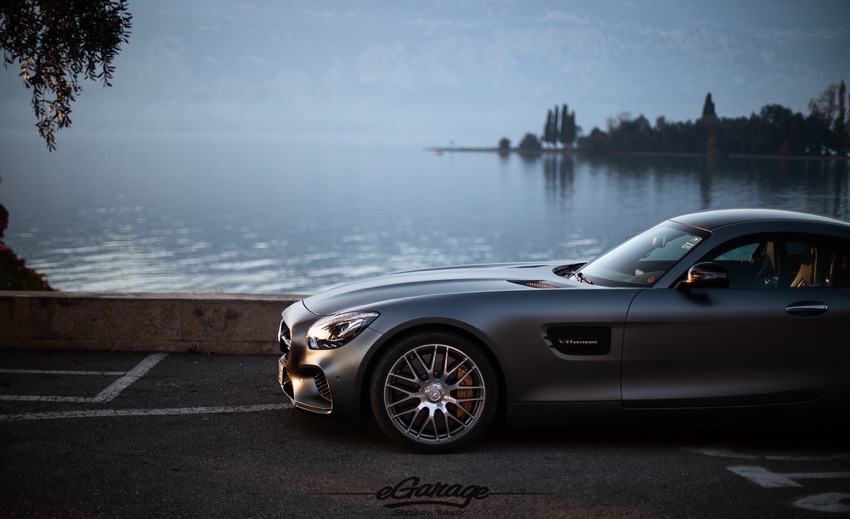 The sun was quickly setting so we drove down along the lake on the east side hoping to be able to get the gorgeous sunset. Moving quickly we were able to the get images we needed. Day 2 was long and eventful, we decided to call it a day, find a hotel in Riva and grab some dinner.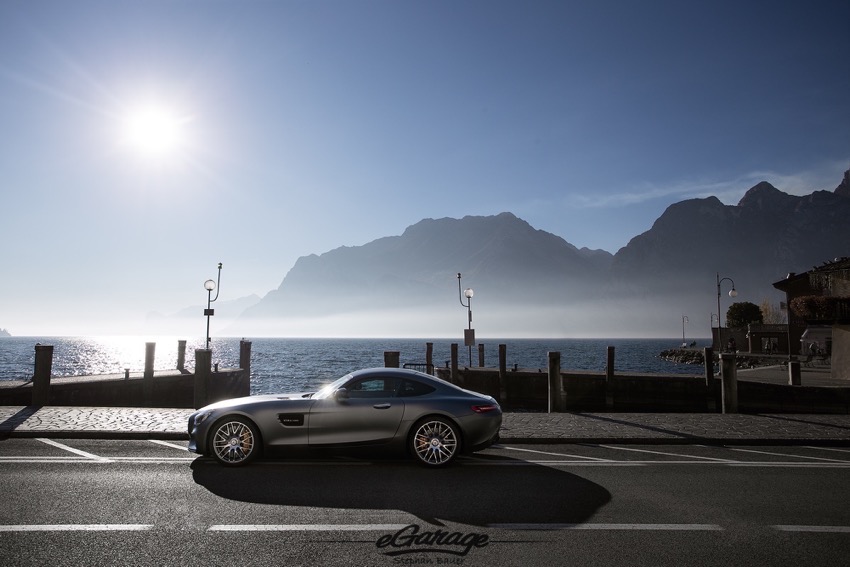 Day 3 would be another early rise to catch the sunrise. We Left Riva at 6am and drove South along the west side of the lake hoping to catch the sun rise from the east. The sky had a very thin cloud over so we didn't get the perfect strong direct sun light we wanted at sunrise but the picturesque location made up for it.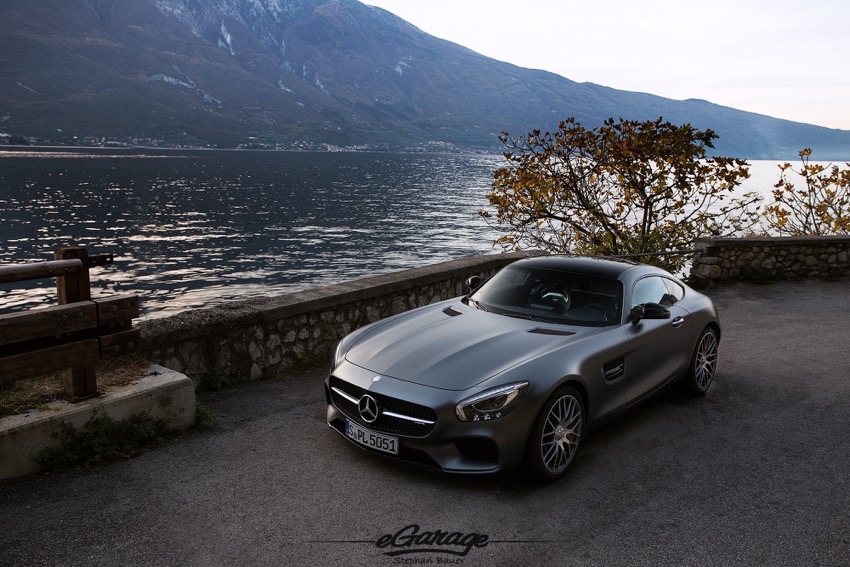 We wanted to drive up the mountain to get a higher vantage point over the lake. Taking the first random small road and hoping it took us somewhere high enough we had stumbled upon a goldmine. The road we happened to take was the famous Tremosine sul Garda, known for its super tight turns carved alongside the rock face of a mountain. Some parts of the road were barely wide enough for a car to pass with incredible cliff overhangs and tunnels carved out of rock. It's something I can not properly describe with words and I only hope the imagery can do it justice.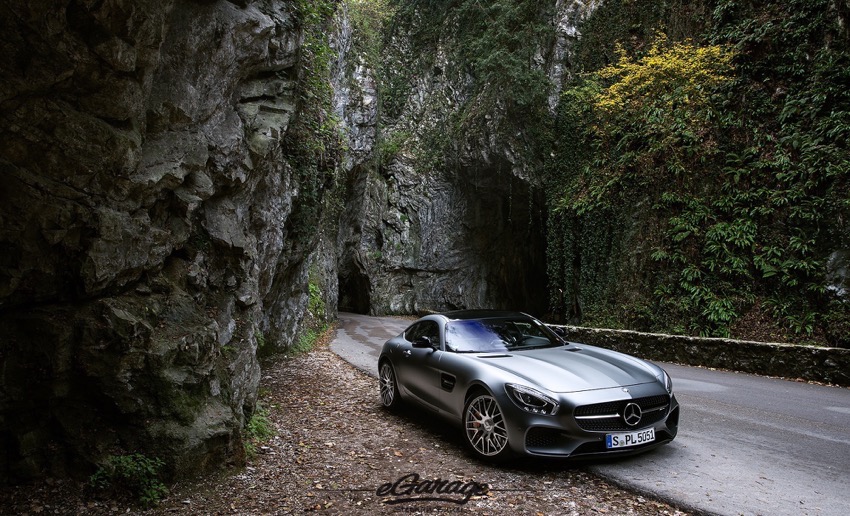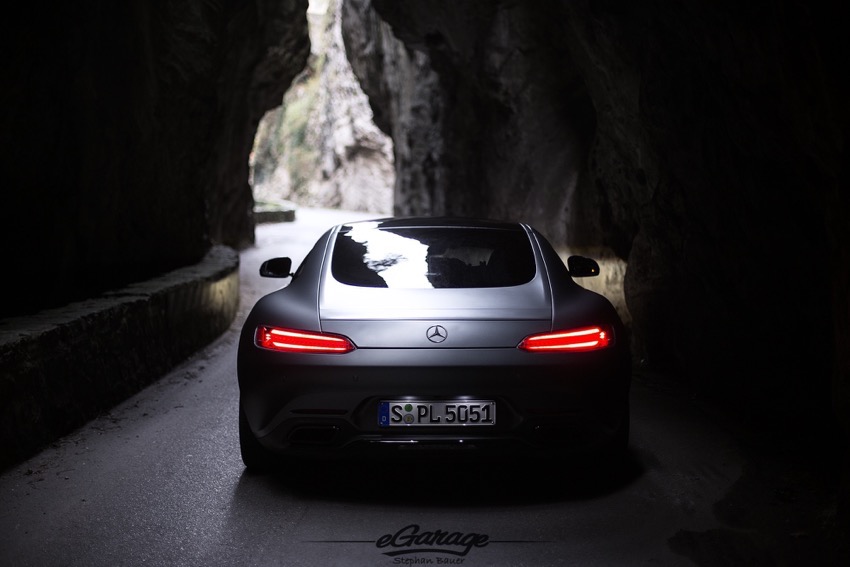 The road eventually lead to a small Italian village of Pieve. One of my goals for the day was to find a typical Italian cafe, sit outside with an espresso, and simply admire the AMG. While driving through Pieve we found just the spot. A local named Domenico was extremely friendly with us, he gave us a quick tour of the village and joined us while we had our espresso. The car started to draw a small crowd, with the locals not being used to seeing such a car every day. Everyone was extremely friendly and waved as we drove off. Domenico was extra generous and offered to drive Marcel around in his car so we could get some driving footage of the GT-S in the roads around Pieve. The generosity of the locals was truly heart warming and made the day extremely special.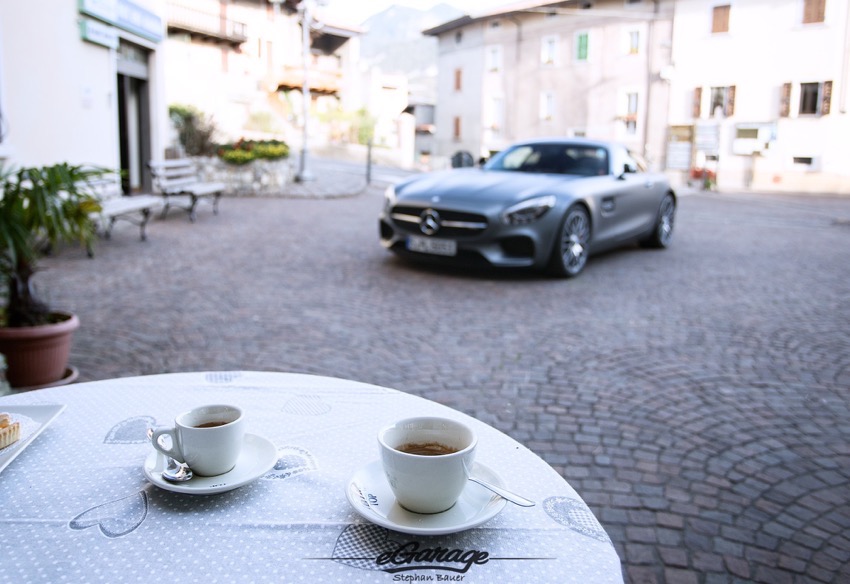 After parting ways with Domenico, we shot some last images over the lake and started the trek back to Innsbruck to drop off Marcel. I was to make the last leg solo to drop the car off in Stuttgart and had time to reflect and think back on the last 3 days. The journey was one that I had dreamed of for a long time and it exceeded all expectations. Putting the car aside, the driving roads, the weather and the breathtaking locations all came together better then I could have imagined. The AMG GT-S was really the cherry on top, making the trip that much more enjoyable. From having such an incredible car to experience those Alp roads on to being able to photograph in these dream-like locations is something that I will never forget.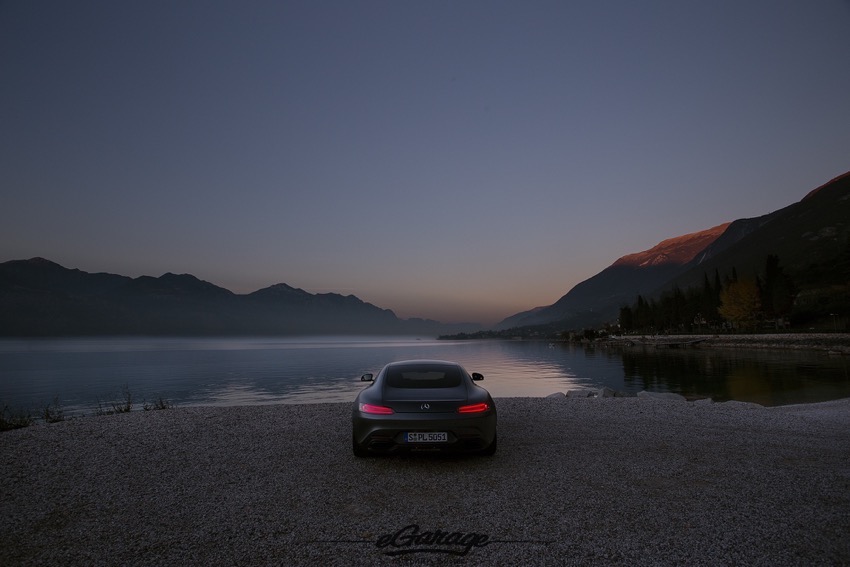 I also feel very fortunate to have learned the driving characteristics of the GT-S on roads for which it was made. Unfortunately, most of these will be driven in urban settings and not enjoyed how they should be. As a photographer, as an automotive enthusiast, and as a dreamer, the last 3 days were perfect. My father would have been proud.