words/photos: Nic Jimenez | track photos: Ernesto Che and Jorge Payan
Prior to the development of the 1988 Audi 200 Quattro development, Joseph Hoppen, manager of Audi of America Sport said, "We've got something to prove to the world, and we intend to prove it." The Audi 200, during its introduction in the 1988 Trans-Am season, piloted by Hurley Haywood, Walter Rohrl, and Hans-Joachim Stuck was received with great skepticism by the top contenders (Ford and Chevrolet). Audi was practically gawked at and not considered to have any serious chance at being a competitor, much less a winner.  What happened next forever changed Audi… SEE the eGarage VIDEO.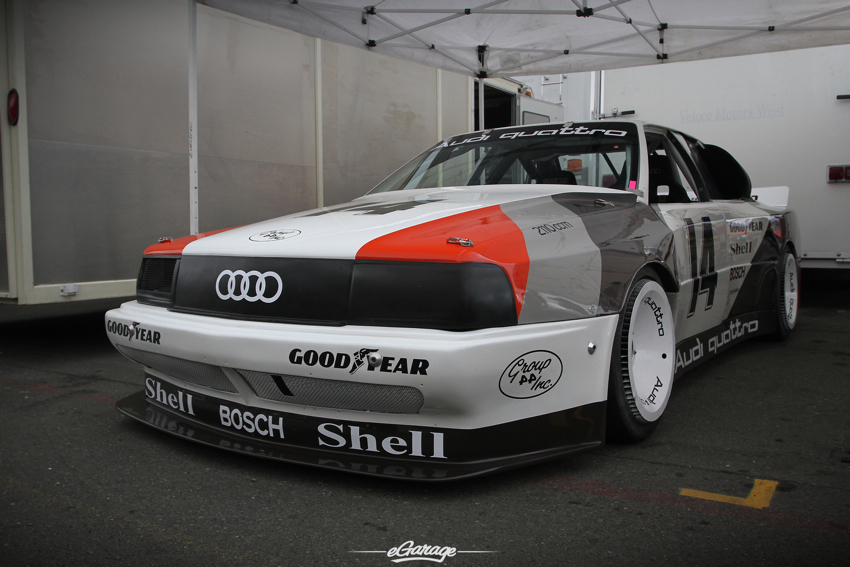 Based on the standard Audi 200 Quattro, this competition car was prepared with 510 bhp derived from the production 5 cylinder turbo engine. The engine was completely modified and the bodyshell had enhanced aerodynamics. No four wheel drive car had ever competed in the TransAm championship. Audi's main consideration in developing the car was in fact the four wheel drive power train. Back in the late middle 80's rear wheel drive and  powerful engines were the standard.  As Audi would soon show the world, a powerful engine is not much use if its power is not applied to the best effect. For the decisive factor here was therefore not all power, but the most efficient way to distribute that power to all four wheels.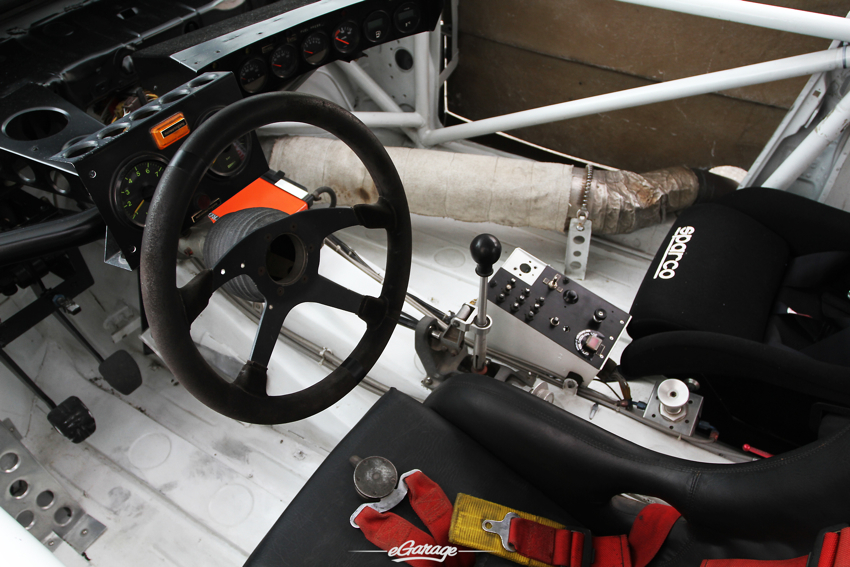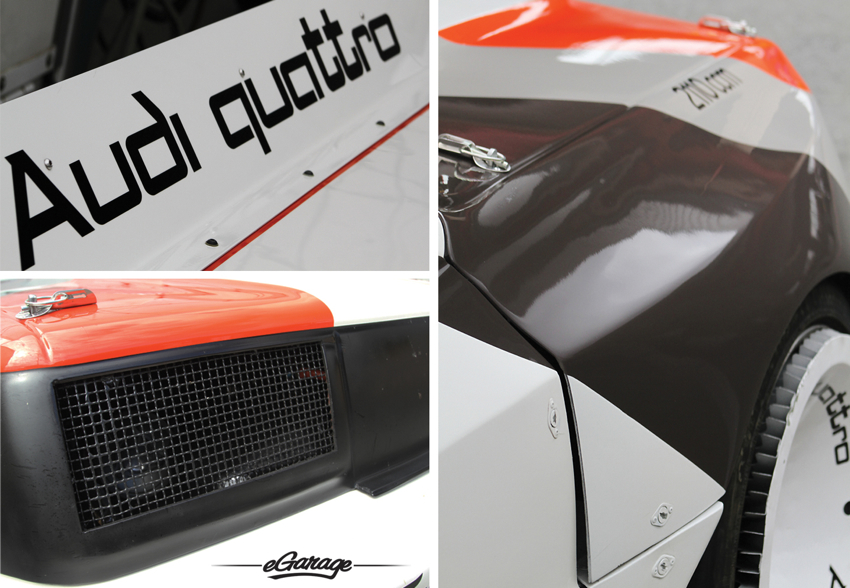 TECHNICAL SPECS:
Turbocharged 5 cylinder aluminum in-line
Installed: Longitudinally, front, angled 27.30 degrees to the right
Capacity: 2110 cc
Bore and Stroke 79.5 X 85mm
Valves: 2 valves per cylinder
Power: 510 bhp (375kW) at 7500 RPM (increased to 550 bhp during the season)
Torque: 530Nm at 6,000 RPM
Turbocharger: KKK turbocharger with intercooler
Fuel System: Bosch Motronic
Ignition System: Bosch Motronic
Spark Plugs: Bosch with platinum electrode
Lubrication: Dry sump with Shell TMO oil
4 WHEEL DRIVE
Clutch: Dual plate dry clutch
Transmission: All synchromesh 6 speed manual transmission
Center Differential: Self locking Torsen, or limited slip viscous coupling with torque split function
Front Differential: Limited slip viscous coupling
Rear differential: limited slip friction plate differential or Torsen self locking differential, or limited slip viscous coupling
Drive Shafts: Constant velocity sliding joint shafts 
SUSPENSION
Suspension: As on Audi 200 quattro standard version: Front: McPherson struts with bottom track control arms. Rear Trapezium arm suspension
Shock Absorbers: Boge twin tube cartridges
Steering: Rack and pinion, power assisted, ratio 14:1
Rims: 12X16
Tires: 25.5X13.5X16 (dry) Goodyear, 25.5X12X16 (rain) Goodyear 
BRAKES: HYDRAULIC TWIN CIRCUT SYSTEM
Components: ventilated discs (front – 330mmX32mm/rear – 304mmX28mm, light alloy calipers)
Brake Balance: manually adjustable by driver
Brake Cooling: Ram air cooling
Pad Material: Asbestos free
BODY: Based on Audi 200 quattro, plastic skin panels
Safety Equipment: Steel cage welded to bodyshell, 6 point safety harness, fire extinguisher system, rubber safety tank.
Length/Width/Height: 4,897/2,033/1,340mm
Wheelbase: 2,687.5mm
Track, front/rear: 1,620/1620mm
Curb Weight: 1,115kg (increased during the season to 1202kg with additional weights)
Oil capacity: 12 litres, water 8 litres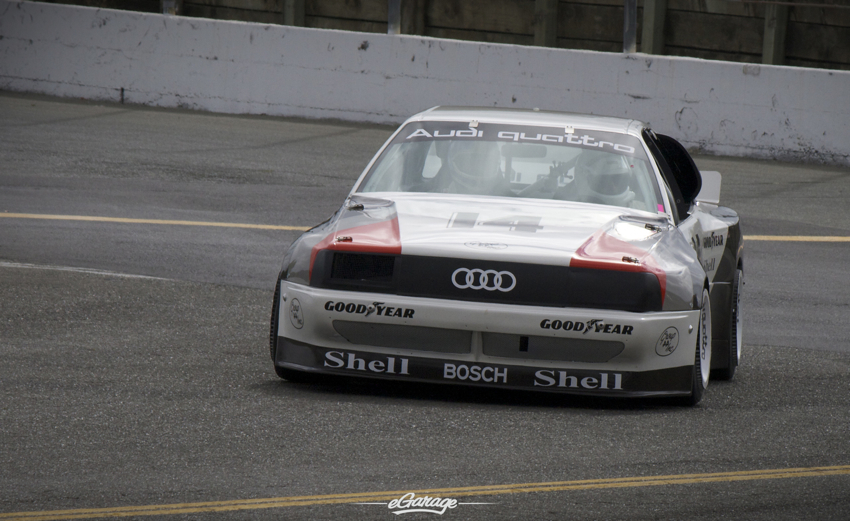 Never before has an Audi been so respected and revered among Audi and motorsport enthusiasts. On April 16, 1988 Audi entered two 200 Quattro cars piloted by Hans-Joachim Stuck and Hurley Haywood in the race at the Long Beach circuit, where they battled against the large-displacement, naturally aspirated V8 600+ hp American touring cars. Spectators were shocked. The 200 quattro TransAm came out of the corners in a full rage, with an exclamation of the hissing wastegate valve. When the gears shifted, fire shot out of the exhaust.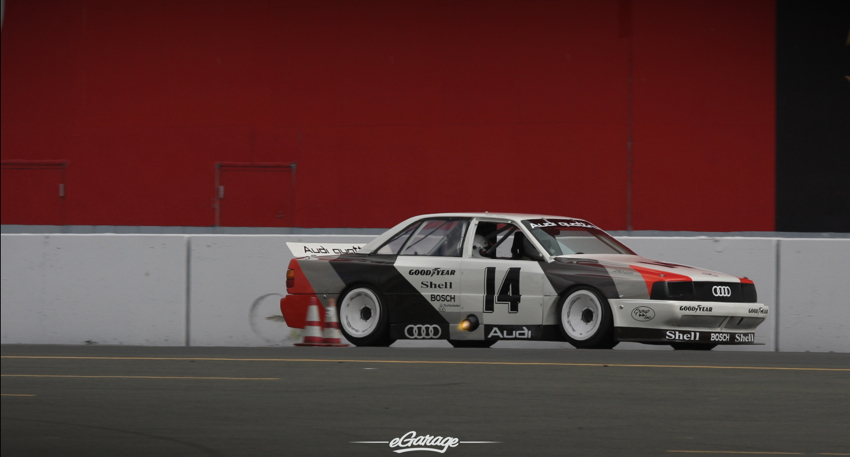 Audi, with the least amount of horsepower was more agile and had the best traction, it drove circles around the rear-wheel drive cars especially in the rain. Haywood recorded the first victory (#44 Car) in the second race at Dallas. By  the end of the season Audi had won 8 of 13 races and had clinched the manufacturer's championship.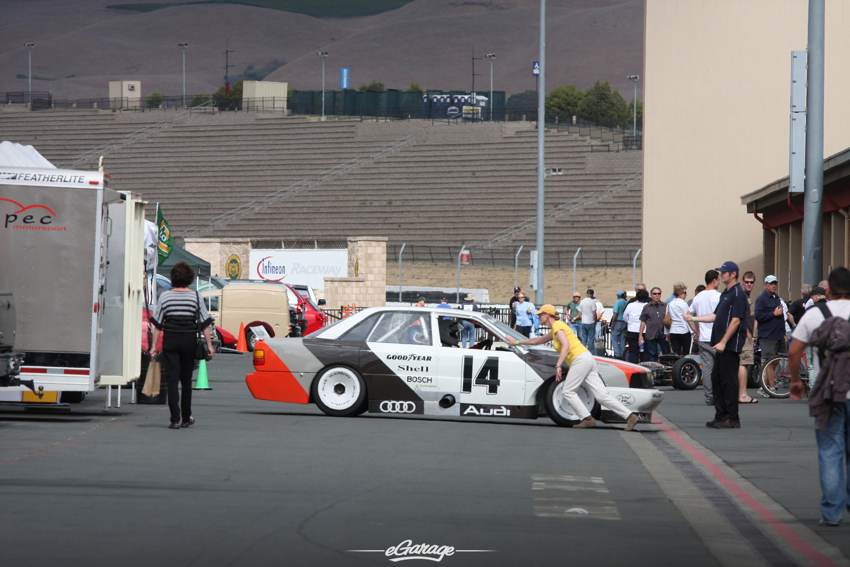 We were very lucky to have come across the #14 car. (Originally driven by Hans-Joachim Stuck) We have to confess it was by complete and total accident. We were actually on our way to Infineon Raceway (Sonoma, California) to see a rare Ferrari, but it blew its motor during warm up. With nothing left to do we stumbled onto the Audi Quattro, parked under a tent – quiet and alone. As its waste gate sounds echoed off the track even 20+ years later the car is still a show stopper! This #14 Audi Quattro 200 is very fast and colorfully amazing. We received quite the history lesson that afternoon and we are still smitten with among even these photos and videos.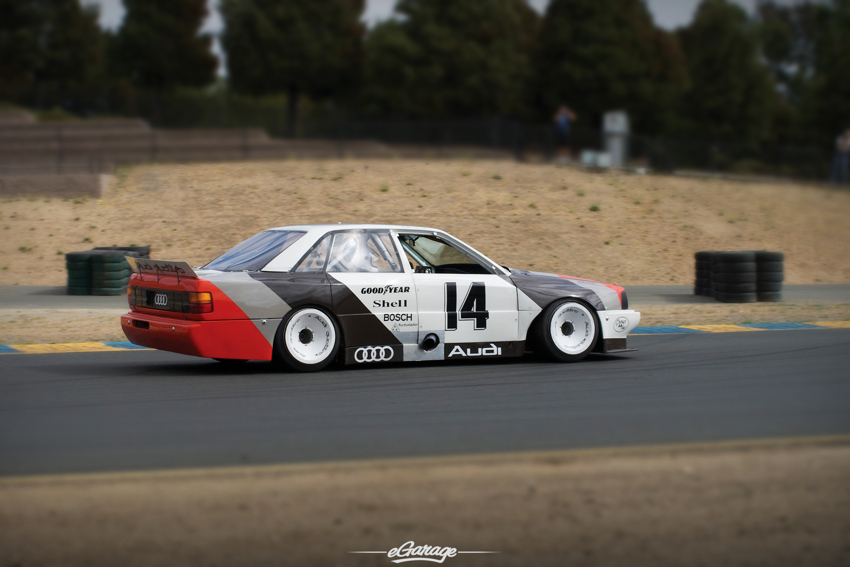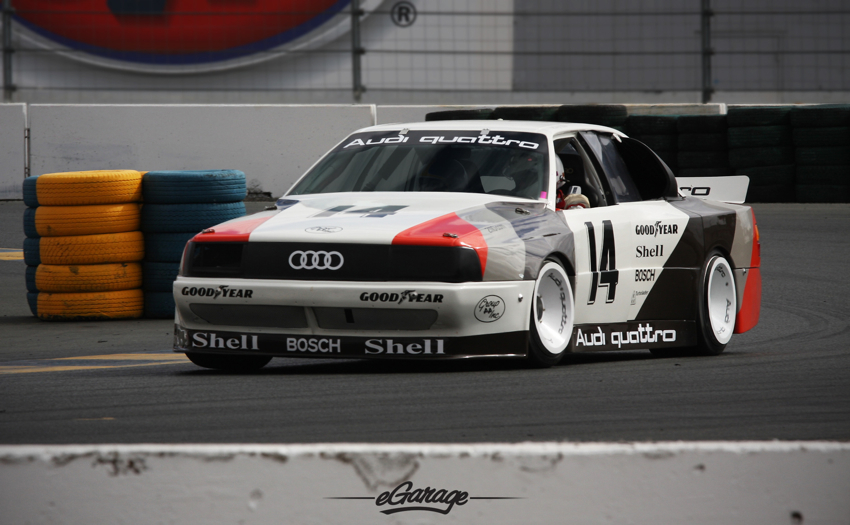 —FOR MORE AUDI 200 QUATTRO PICS VISIT eGarage FLICKR—