When we started eGarage, we wanted to make sure that any supporting companies involved were as close to friends and family as possible. Setting up a familial context around our sponsors would ensure that communication always remained open and honest and a win/win relationship was ensured for both parties.
Equally important was that our sponsors represented the best of brand in their respective industries. After a lighting fast year and a half live online, this is the first new addition to our sponsor family and we couldn't be happier about it. We had hoped that one company from the air suspension industry would present themselves as a natural fit, and we are so pleased to announce that it is AccuAir out of San Luis Obispo, California.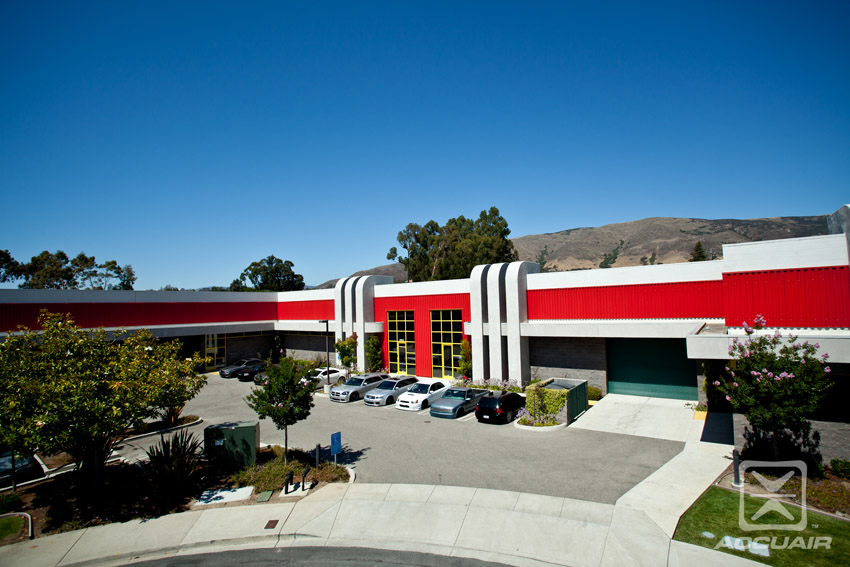 As the best relationships do, the eGarage/AccuAir relationship has gotten better with time. We have each stood by and watched the other grow into a brand who owns its identity and works toward greatness in everything it does. AccuAir has established themselves as a leader in the air suspension industry and with their iLevel and e-Level systems they are revolutionizing it.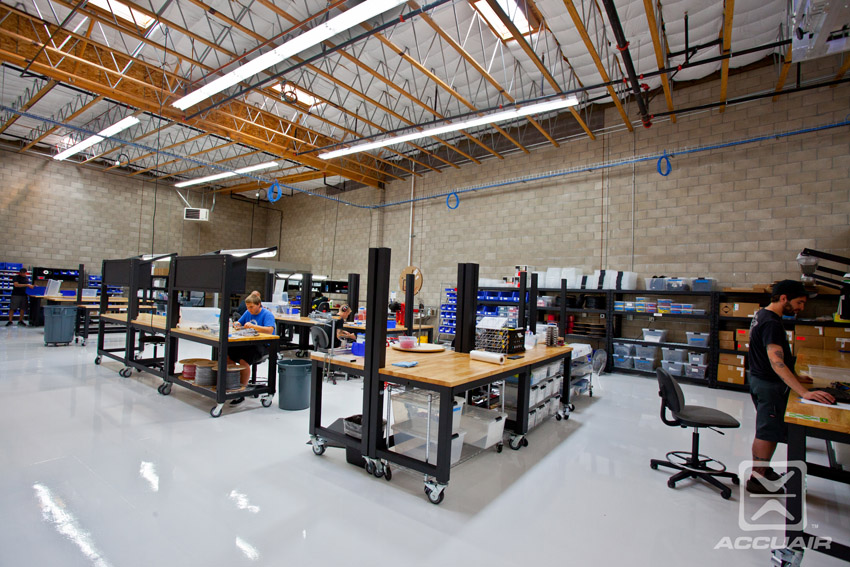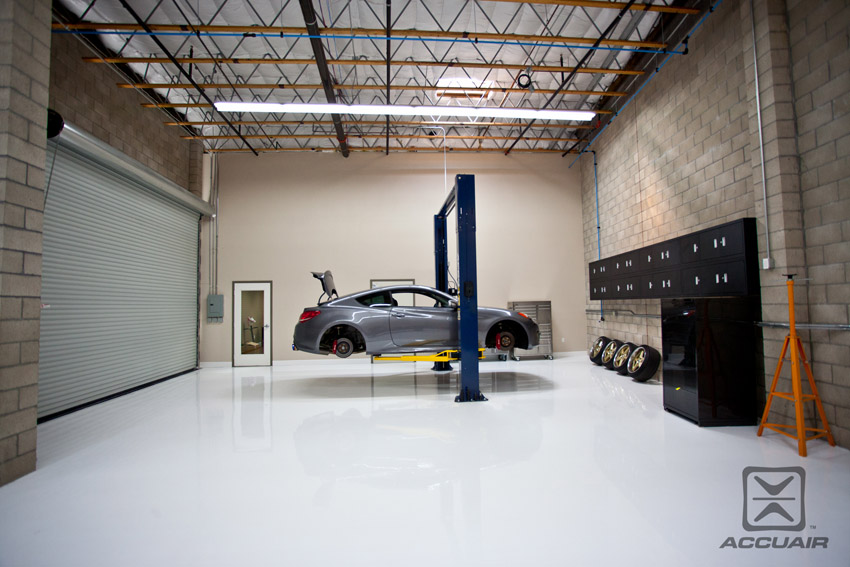 What really attracts us to companies like AccuAir is that they have already gotten aboard the train of video marketing. They seem to "get it". Companies who know how to collaborate with content are a dream come true for us. The creative team at AccuAir understands that the medium of video is an effective way to capture hearts and minds and they have also mastered the art of social media through commanding impressive numbers on Facebook and Instagram.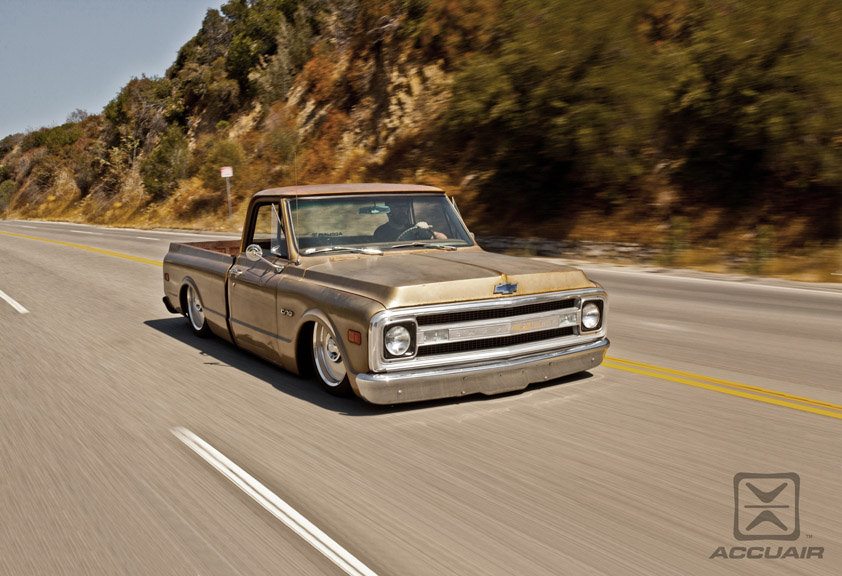 Founded in 2001 by brothers Reno and Dustin Heon, AccuAir has stayed true to its motto by investing more design, engineering, and testing into the art of controlling Air Suspension than anyone else in the world. This investment shows in the performance, reliability, and overall quality of each and every AccuAir product. In addition to providing the best products available, AccuAir stands behind their products by providing the best technical support and customer service in the industry.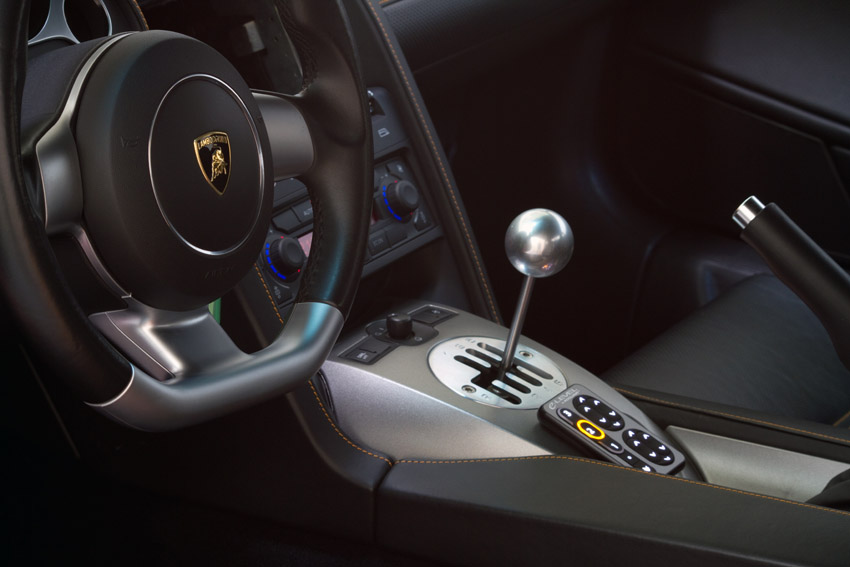 This is all possible because AccuAir has created a team of talented individuals that are passionate about vehicle suspension design. This team is composed of credentialed Mechanical Engineers, Electrical Engineers, Software Developers, Technical Literature and Graphic Specialists, and top skilled manufacturing technicians.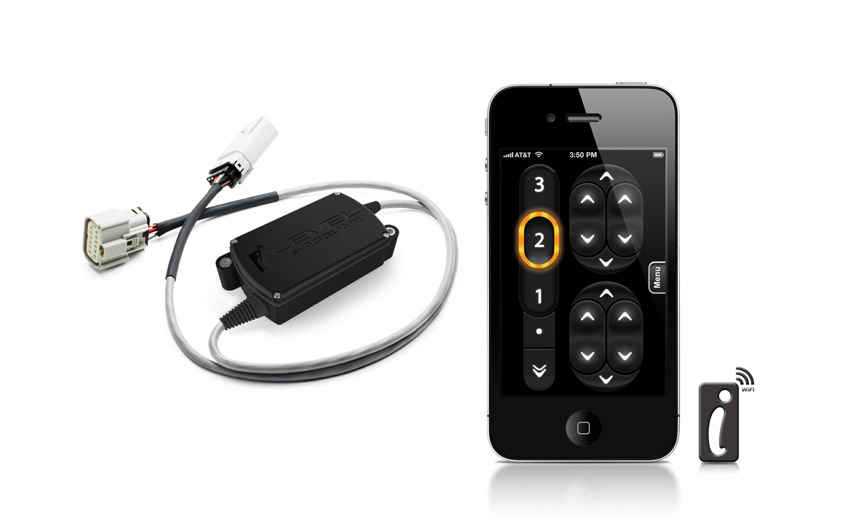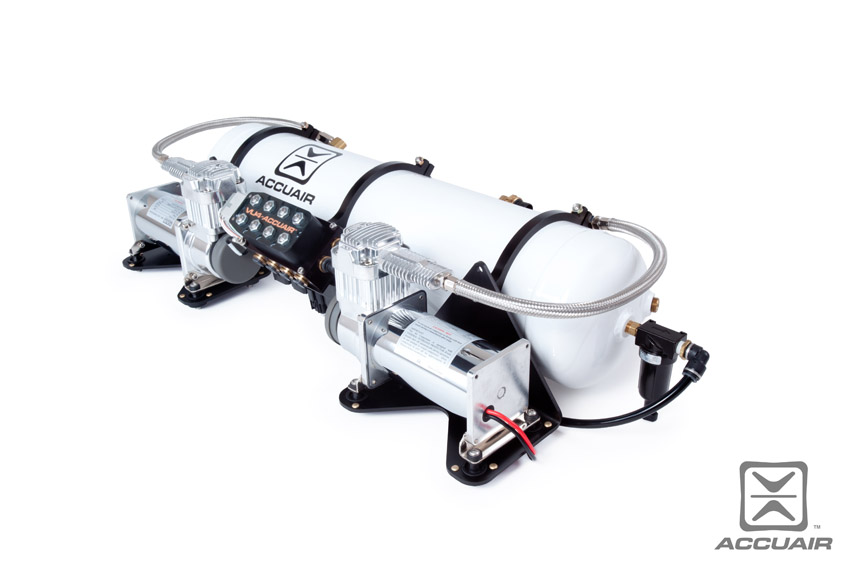 AccuAir applies its practices to multiple automotive industries and beyond. In addition to specialized product lines to serve the custom-car aftermarket as well as OEM/utility-vehicle industries, AccuAir's Custom Solutions division provides engineering, development, and manufacturing services to discriminating clients requiring "Better by Design" solutions.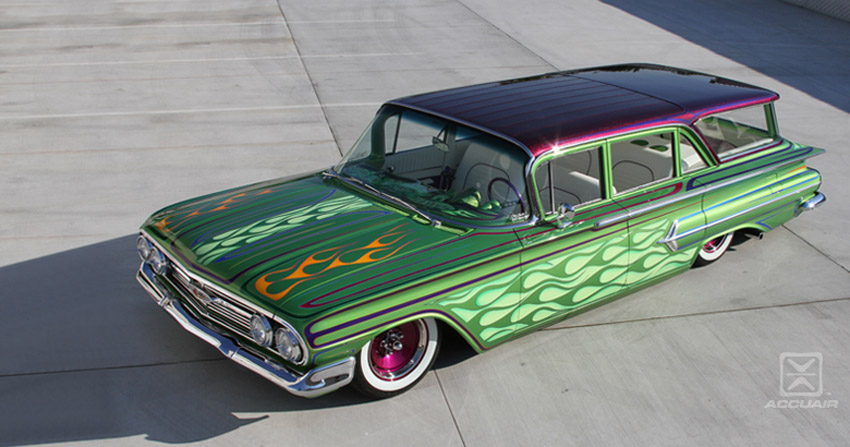 A car guy and gear head from early on, Reno's parents encouraged and supported his passion throughout his childhood. During his junior year at Cal-Poly, a personal vehicle project in the garage of his college apartment spurred the development of a unique computer controlled electronic leveling system for use on vehicles with air suspension. In 2002, Reno and Dustin decided to turn this unique development into a manufacture-able  and marketable product and AccuAir Suspension was born.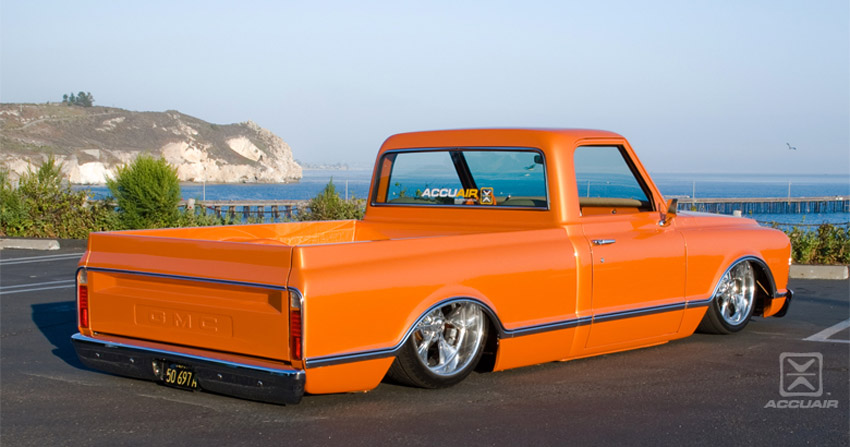 Reno and Dustin formed an LLC in 2002 to market and sell the product they had created, and Dustin completed high school while taking afternoons off to handle book keeping and advancing vendor relationships. Dustin's drive for growth and passion for business strategy are sure to keep him in a position rapidly growing AccuAir and all of his future business endeavors. Taking the reigns of Accounting, Production and Operations he has supported growth at a pace of 50% or better every year since in a brick-and-mortar manufacturing and technology company.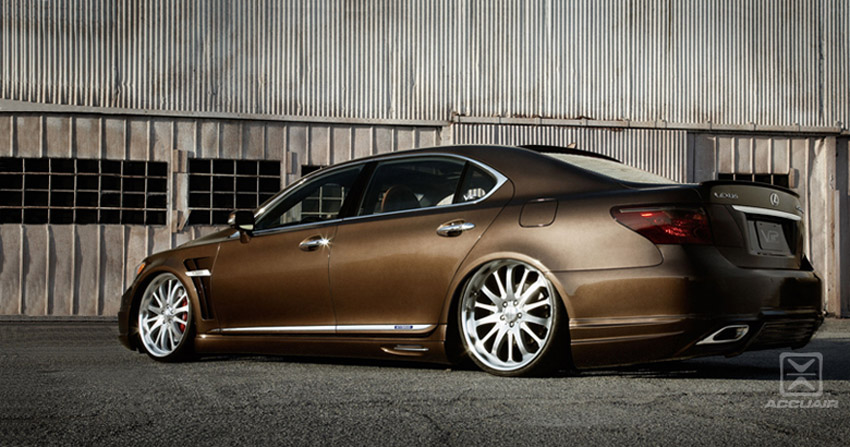 By 2006, AccuAir was finally picking up speed and starting to find a strong market for their products. A product redesign was followed by the addition of an equity partner and the business really started to hit its stride. In 2009, Reno and Dustin reached out to local business growth specialist Michael Gunther at Collaboration, LLC. "Although we had been running the company for many years on our own, we had reached a point where our own perceptions of our priorities were going to limit our ultimate growth", Reno says. "Collaboration shifted our gears entirely and taught us how to succeed at the key element of any business… sales". As a result, the company experienced 58% growth in 2010 and 93% growth in 2011 despite the very challenging economic climate.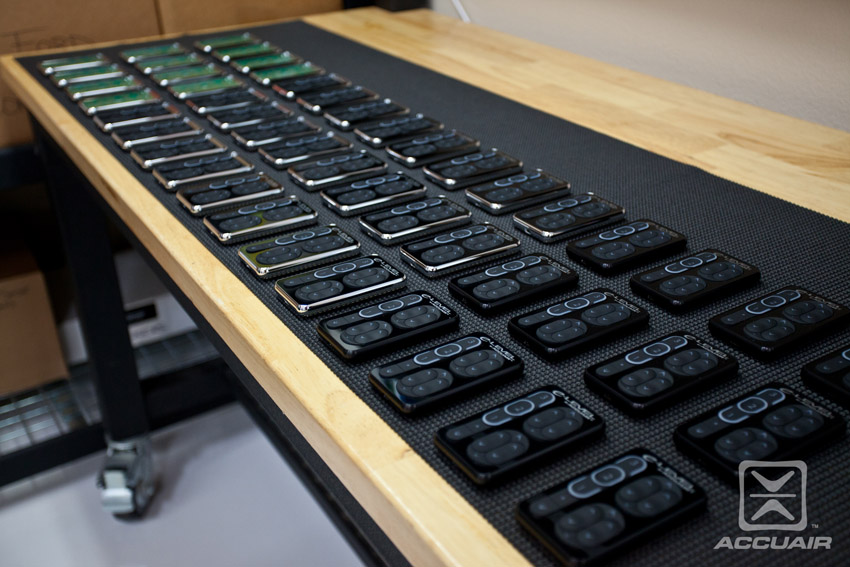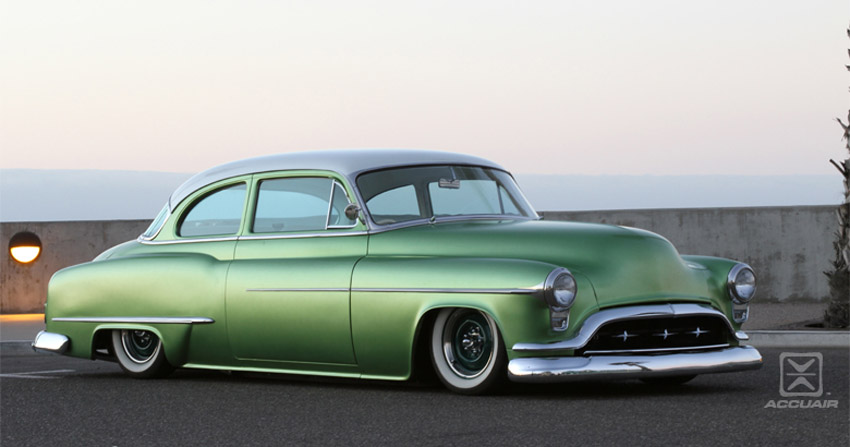 There's no better way to round out our introduction of AccuAir than to show off their latest project and video associated with it. AccuAir's own, in-house video team shot and edited this clip featuring Coastline Auto Sport's build of their Audi "Air4" in preparation for SEMA 2012. The stunning black wagon ticks all the right boxes for us.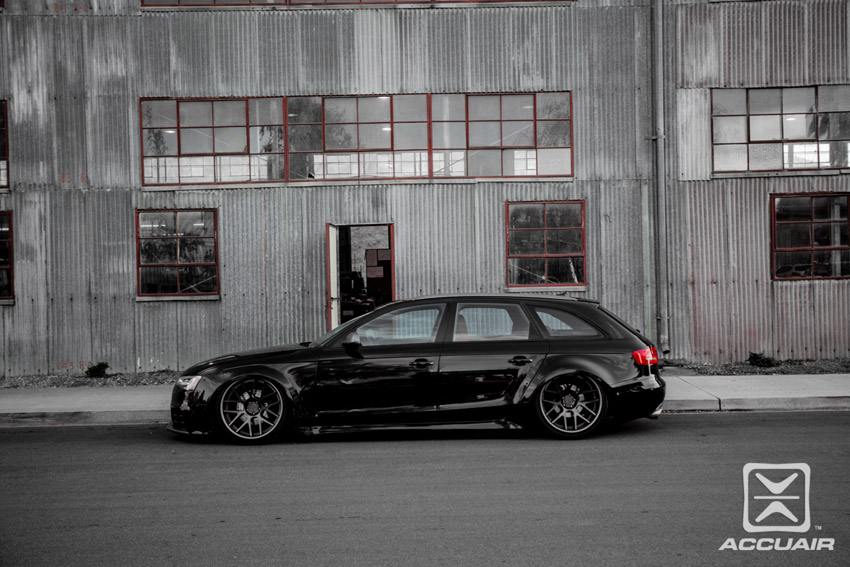 We love black.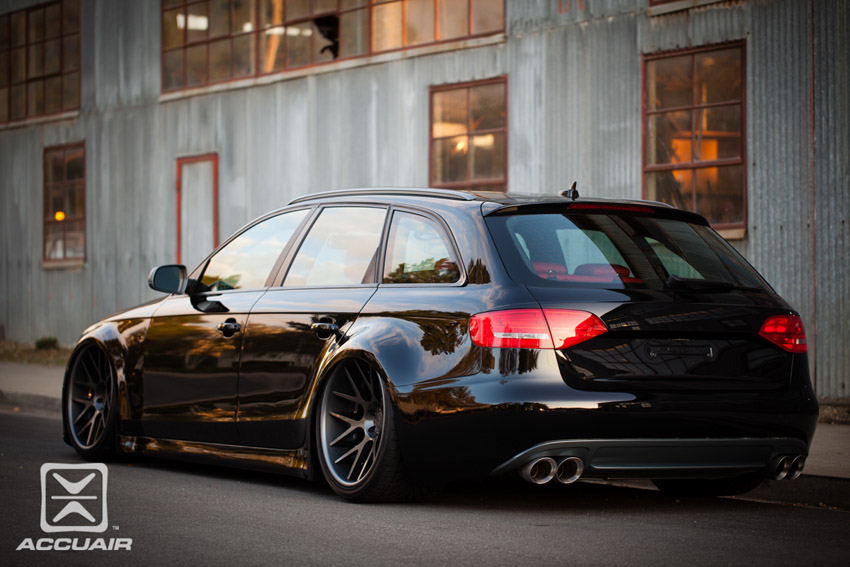 We love wagons.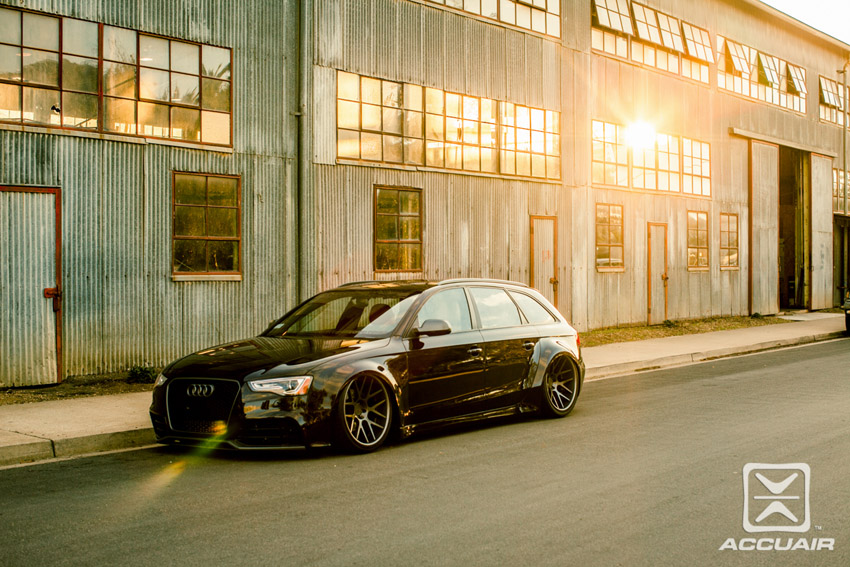 We love widebodies.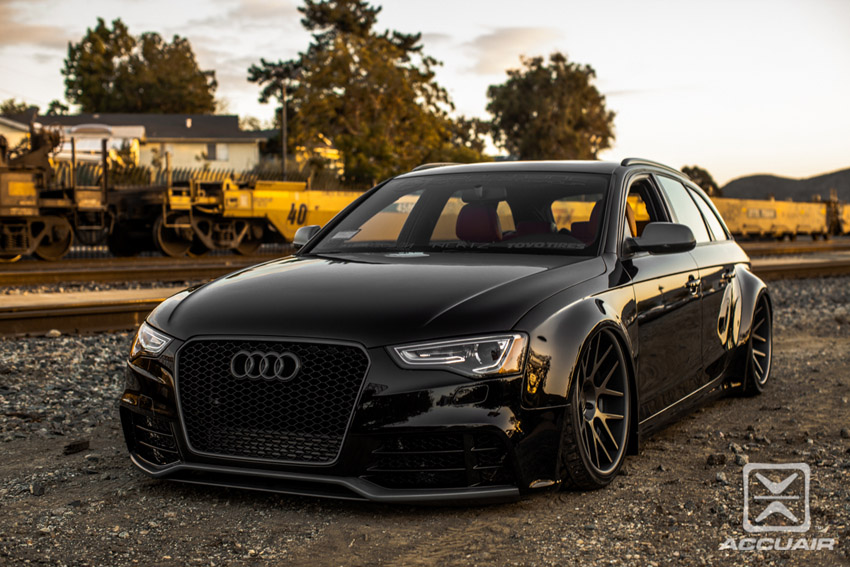 We love clean installs and hi-tech.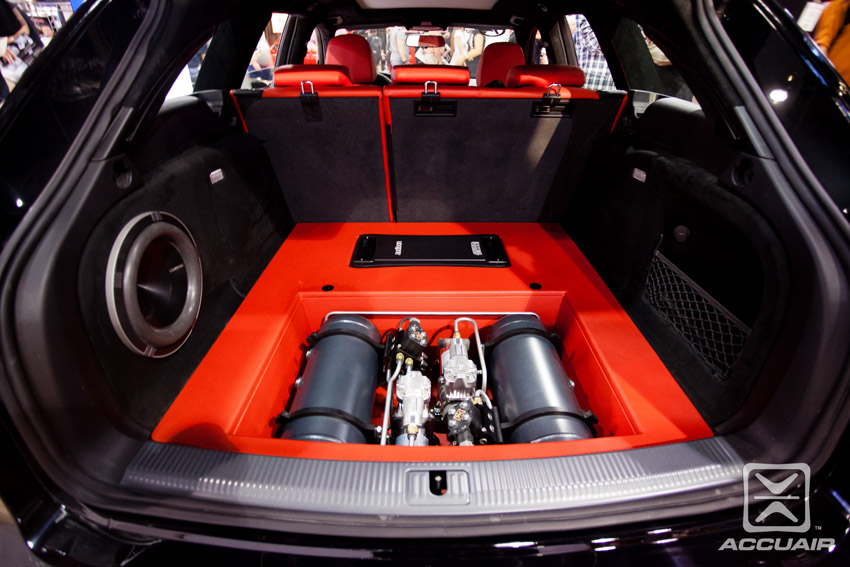 We trust that you, too, will come to love what AccuAir brings to the eGarage network. With cutting edge technology, an active social network all their own, captivating photoshoots, and breathtaking videos, AccuAir packs quite a collective punch and we're delighted to welcome them to our family.