Words: Karl Troy | Photos: Nic Jimenez, Drew Larrigan, Richard Thompson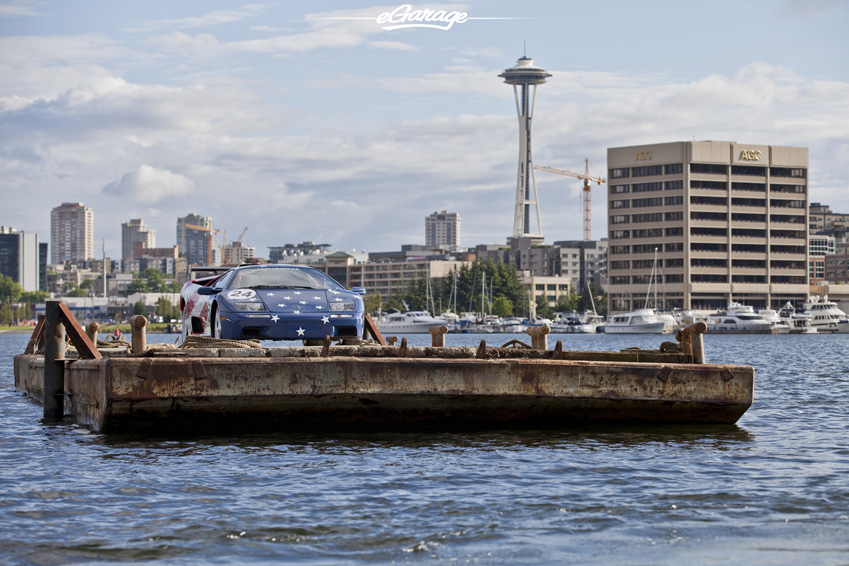 I have been preparing cars for a client for years that he would use to compete in various competitions. One of those was the "One Lap of America". It was usually a BMW of some sort. He always tried to talk me into doing the event and in 2002 I decided to take the plunge. I owned a 1995 Diablo VT at the time and thought I could do very well considering the entry list I was looking at. What I didn't realize was that the entry list only reflected what the vehicle started out as and not what it had become in the meantime.
I realized that I had brought a knife to a gun fight. Ten years later, my wife still makes fun of me saying that.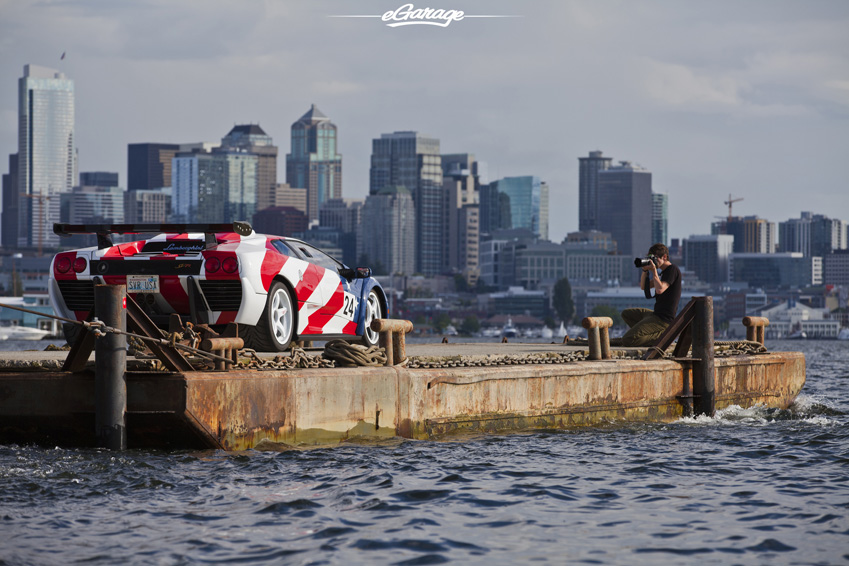 I did finish 10th overall out of 91 cars which was not bad at all considering I had never been to a majority of the tracks we ran. One of the most memorable events was me running the car on a dirt track in Tulsa, OK. I had never been in a dirt track parking lot before, let alone the track itself. I finished in 3rd place which was huge and kind of took the Lambo back to its roots of building tractors.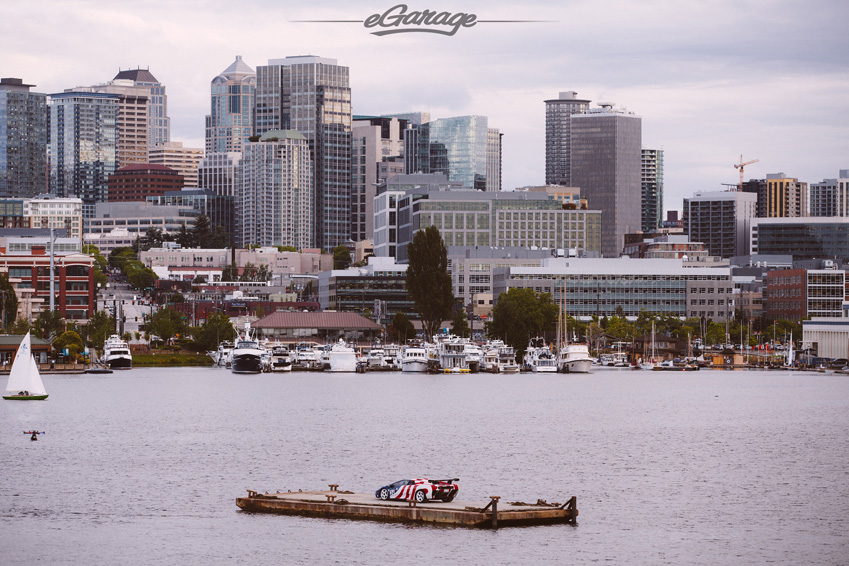 For the 2003 OLOA I decided I needed something a bit more potent. I do not recall how I found out but somebody I knew mentioned a certain Diablo SVR for sale. The car was part of a lawsuit against a exotic car dealer in Scottsdale, AZ and it was not certain I would ever end up with the car. I wired the money into an escrow account of the attorney handling the case. When the car was to be picked up it had disappeared and no one had a clue where it was. I was given the option of having the funds returned or waiting to see if the car turned up. I chose to wait it out and see what would happen. Eventually, weeks later the car turned up and was shipped to me.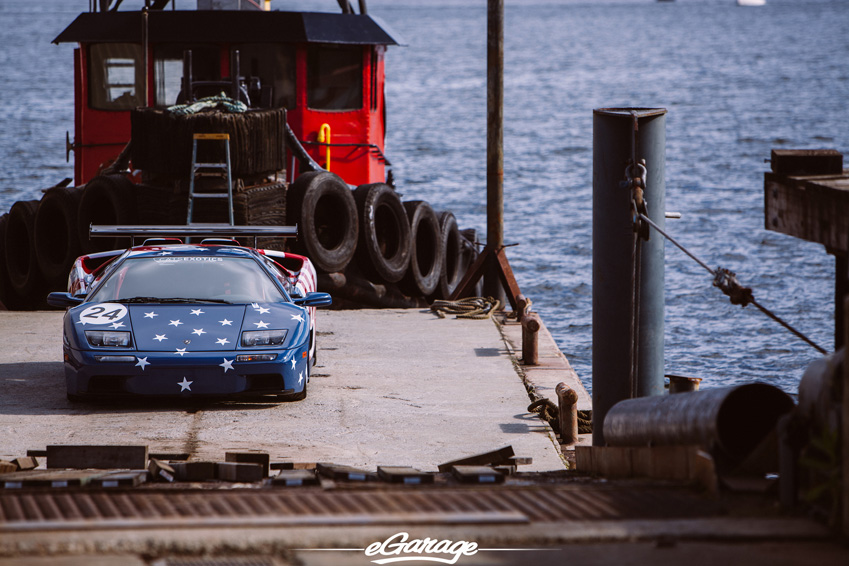 It arrived in pretty rough shape, flat and dry rotted slicks that wouldn't hold air for more than 2 minutes. We unloaded the car and started it up. Wow, the sound gave me goose bumps instantly.
My brother Martin Troy was the first one to drive it. We aired the tires up way above the normal pressure so the car could do a quick run up and down in front of my shop, European Road and Racing, before they'd be flat again.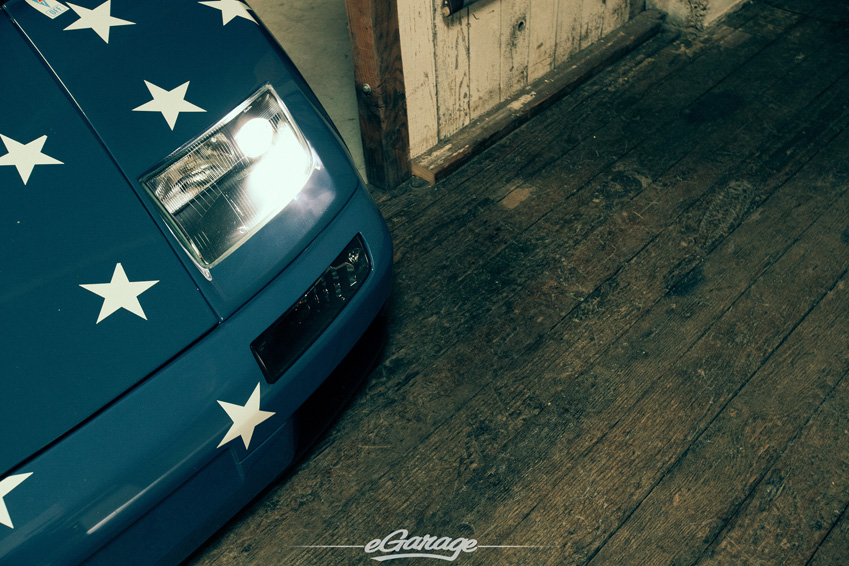 It was heaven. I had done a lot of research about the car before deciding to purchase it. I had even located the gentleman that owned the car when it was raced in Europe.
The car was the only American entry into the Lamborghini Supertrophy Series and that is were the paint scheme originated from.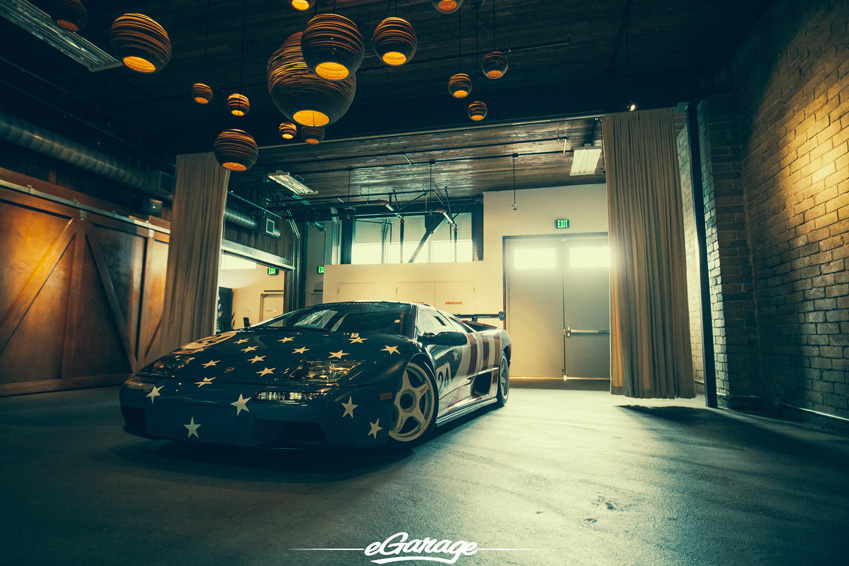 At that time I had my work cut out for me. I wanted to bring the SVR (Sport Veloce-Race) back to its glamour and all that just in time for the 2003 OLOA. I had always had a cool car but usually only one at a time. Since there was not enough time to sell one thing to buy another I had to get creative with my funds. I owned a Ferrari Testarossa and both Diablos for a few months until I found a home for 2 of them and could devote my full attention to the SVR.
One of my good friends and clients, Mike Appleby had mentioned a year earlier that he would offer some financial suppport for the 2003 event and even though I never asked, he remembered and fulfilled his promise and then some.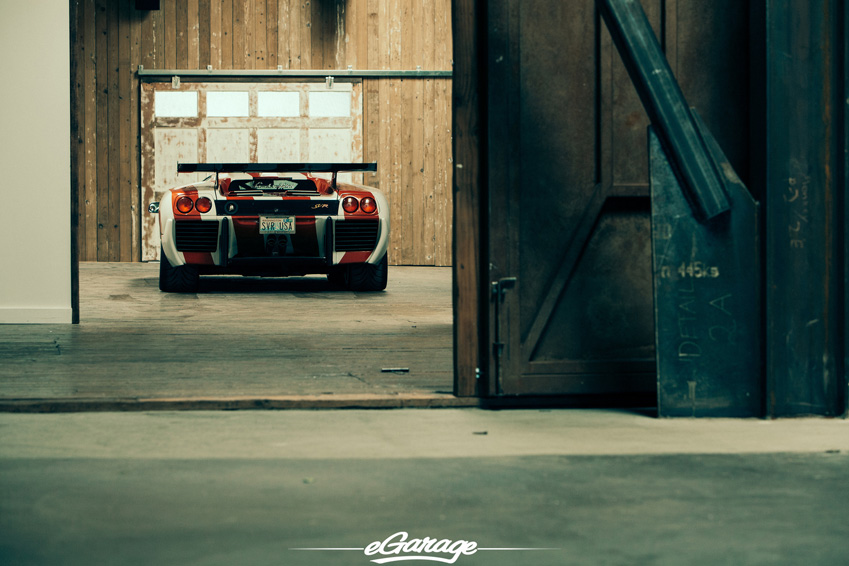 At that time, I decided that with so much support from him I'd be honored to make him my co driver for the event which he gladly agreed to. Mike had never sat in the car before until we arrived at Rochester, NY and later Watkins Glen, NY. To our shocking surprise, Mike could not get into the car due to his size and height. He is a perfectly normal built guy just not the size of most race car drivers or jockeys. What to do now?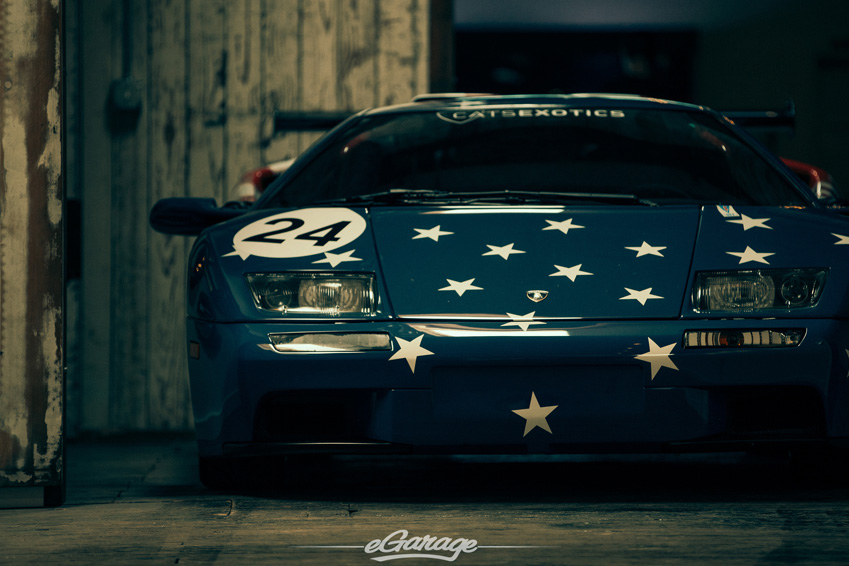 Hey, let's unbolt the part of the rollcage that runs along the inside of the driver's door. It reaches from the shoulder area down to the driver's feet. With it gone, things should be easier and so they were. Problem solved. But unfortunately we created another one as we found out on during the first event.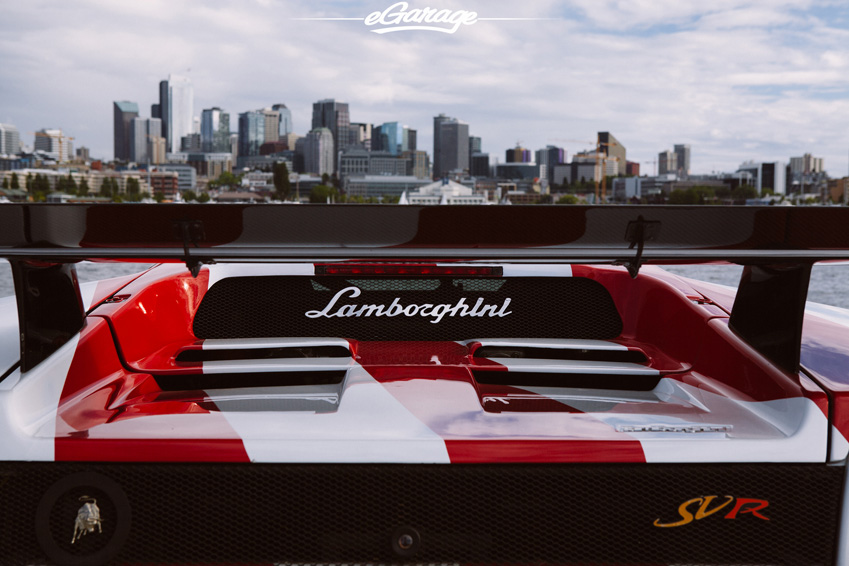 I was on my first run around Watkins Glen and flying downhill into the boot on a cold and moist track. As soon as I touched the brake pedal the rear of the car snapped around like someone had pulled the rug from under me and sent me into the tire wall. I was furious with myself especially for disappointing my friend Mike after all he had done to help. What was I doing out here? Maybe I'm not a race car driver after all. So many things went through my head. The car was bent, the steering wheel off by almost 90 degrees. It was ugly.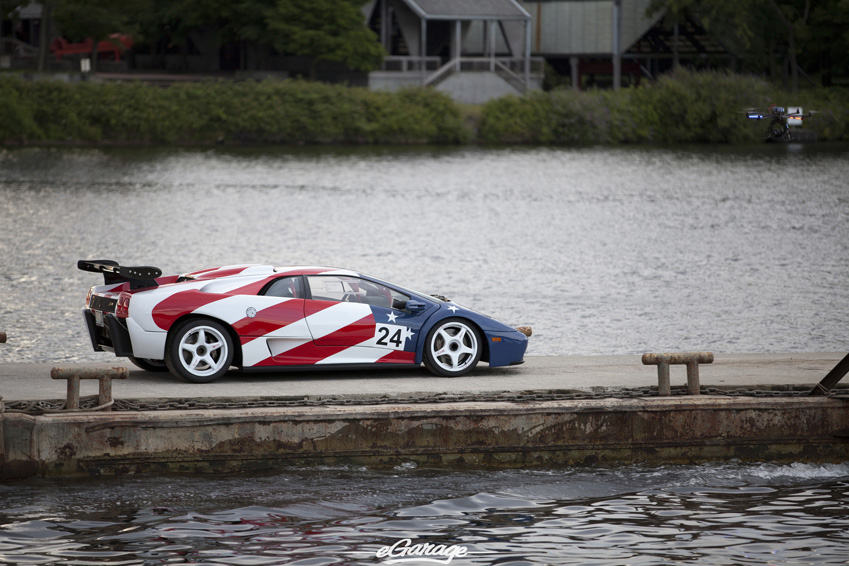 After returning to the pits we got busy as I am not one to throw in the towel until there is nothing left. Bailing wire, sledgehammers, color coordinated duct tape brought the Lambo back to somewhat presentable status. There was no time left to address the severe alignment issues as we were up for the second run.
As I walked up to the car and opened the door I felt the ultimate relief. The brake bias lever had been pushed all the way to the rear as one of us got into the car. That lever used to be under the protection of the roll bar section we had removed earlier. Now it was wide open to be forced out of position every time we got in and out of the car.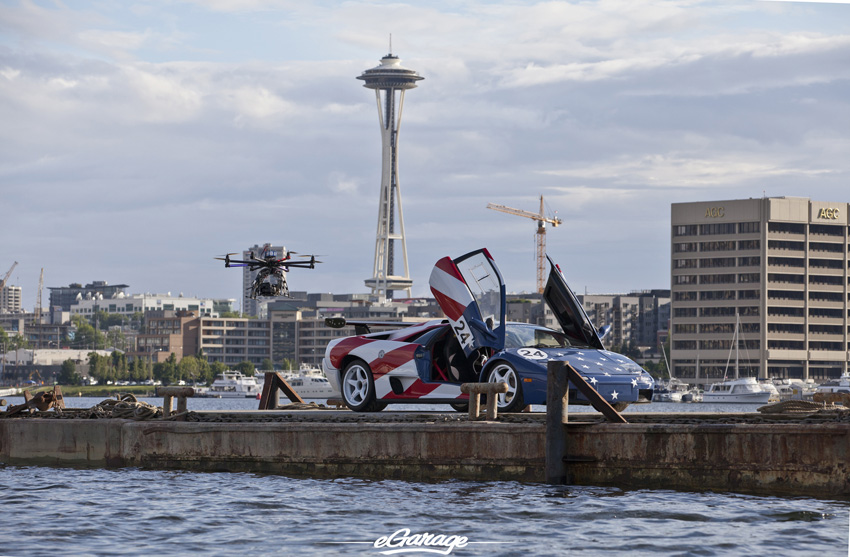 I was so excited to find out why the car got away from me in the way that it did. Maybe I'm not the horrible driver I thought I was. My confidence in myself and the car returned instantly and I finished the second run in 7th place with a "bent car". The DNF in the first run put us dead last. 85th place. With several 3rd place spots, CMP, Memphis Motorsports Park, Indianapolis Raceway Park, etc. we worked our way back to 9th overall.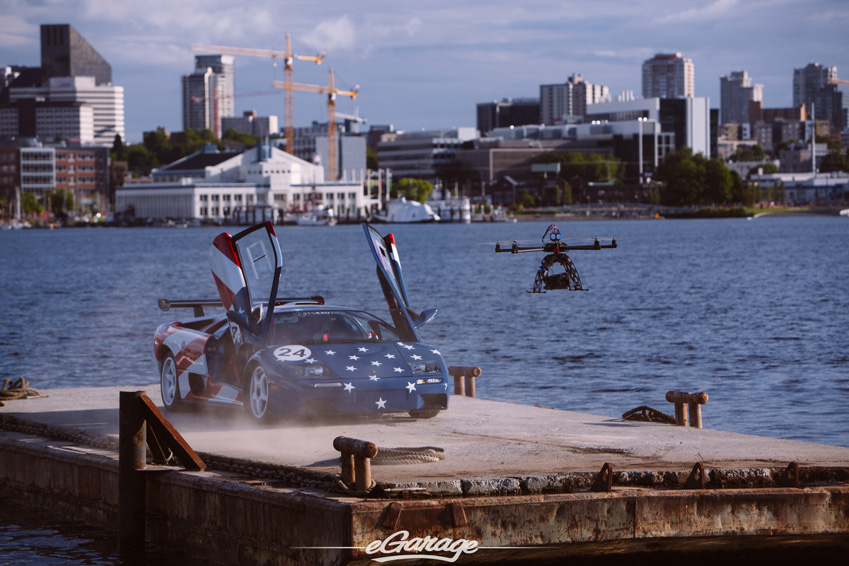 We brought the car home and a friend of mine Brian Jones rebuilt the entire quarter panel into "as new" condition. And we added a trailer hitch to the car so we could pull a small trailer behind with room for supplies and tools and clothes. Probably a first for a Lamborgini too!
The car was used during many other events and was a crowd pleaser every where it went. I had the pleasure of chasing down and catching Bobby Rahal at an event at Roebling Road in Savannah, GA. He was in his Carrera GT.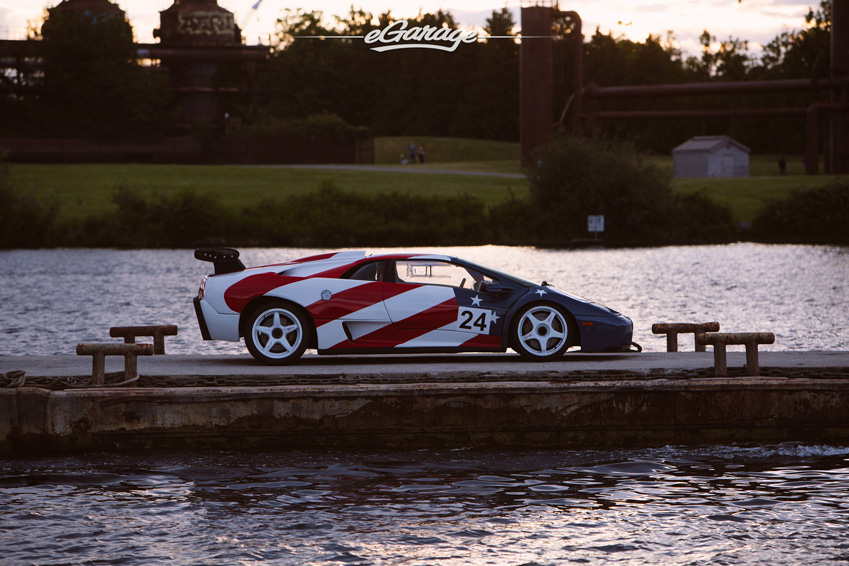 The car was featured in Makes and Models magazine in the month of Sept. 2005. Many years ago I sold the car to Roy Cats of Cats Exotics who has the passion and means to perfect the car into what it is today. I am so excited to see the joy it still brings today and honored to have been a part of it all.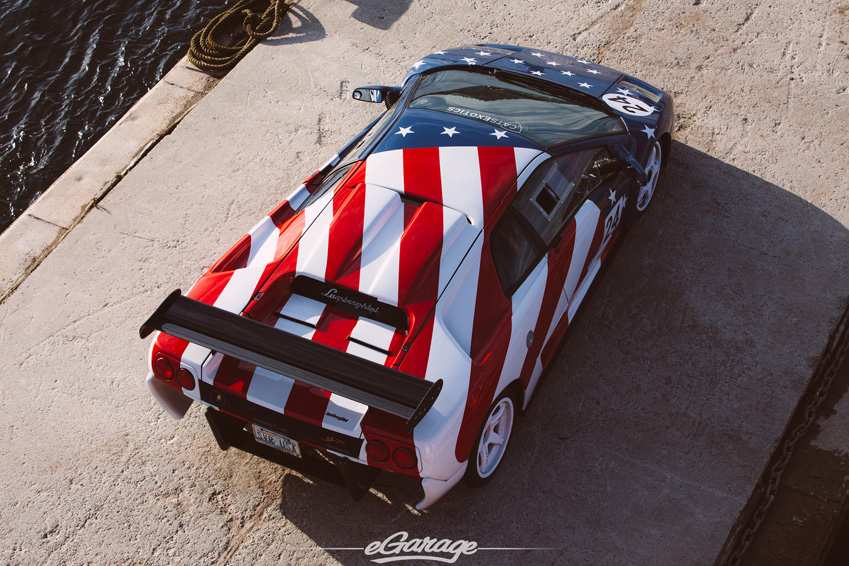 This story is about an Austrian racing an Italian supercar painted like the American flag. I am proud of my heritage, proud of the car I owned and proud of and thankful to the USA for providing me with the opportunity to do so.