Words: Nic Jimenez | Photos: Raphael Belly
Not since the 300SL roadster of the late 1950's has there been this much excitement about a topless Mercedes-Benz. With the introduction of the modern "gullwing" in the Mercedes SLS AMG it only seemed approriate that the German manufacturer of Automobiles, buses, and trucks follow with the Mercedes Benz SLS Roadster. The 6.3L V8 Mercedes masterpiece is not your typical top down princess mobile.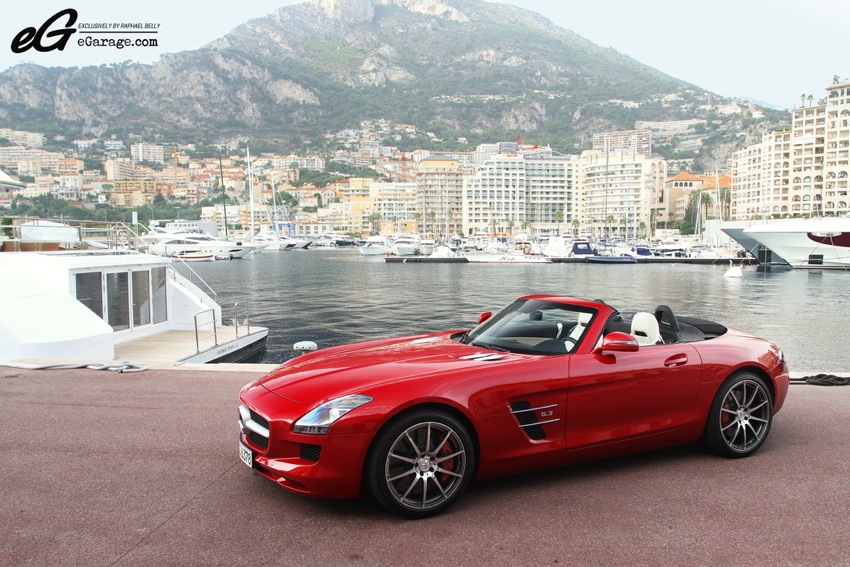 This 2nd installment of the SLS features many nostalgic cues with the 300 SL Roadster of some 50 years ago. Such design details include wide radiator grill with its exclamation point Mercedes star and wing shaped cross fin including fins on the hood and sides.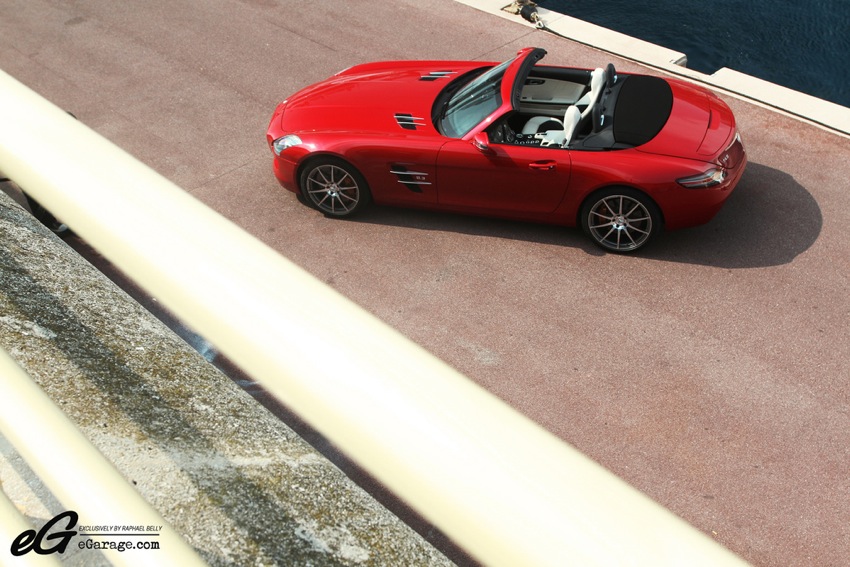 With a fully automatic one touch canvas soft top this SLS has all the interior fixtures that come with any AMG built road car. It is said that Mercedes fine leather comes from cattle raised on land free from barbed wire (as to not puncture any future material) Interior finishes also include genuine carbon fiber and aluminum. Decorative and contrast stitching enhances aesthetically and gives the impression of hand crafted elegance which is a staple of Mercedes Benz lineage.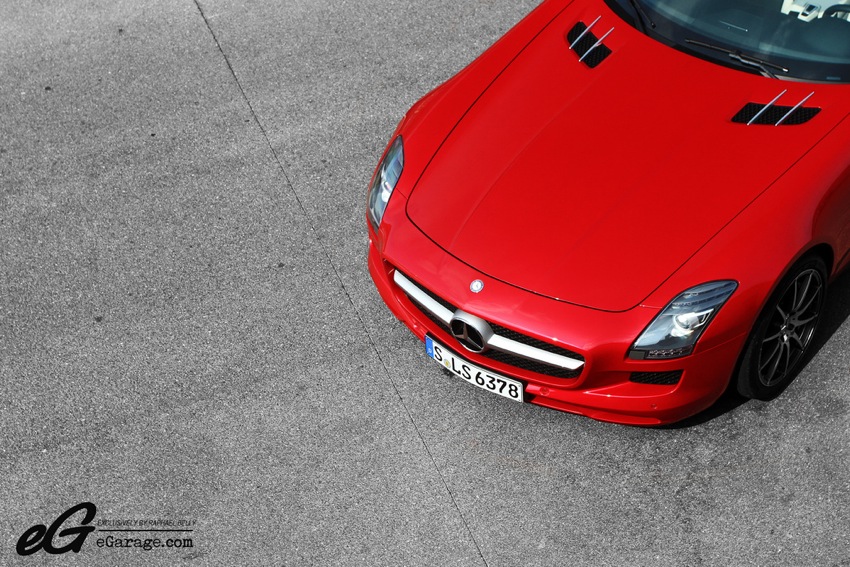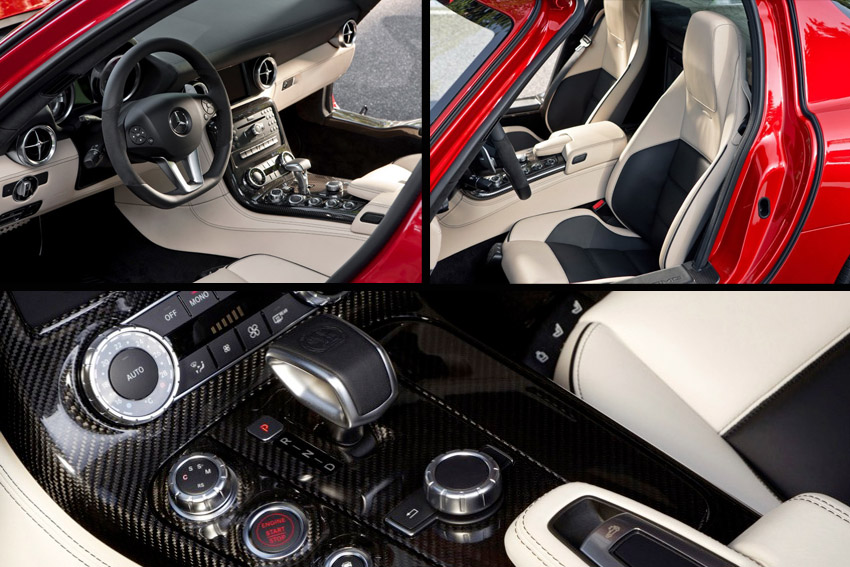 In addition to a high standard of cockpit comfort, the major goal for optimal Mercedes Benz driving is performance. The SLS AMG Roadster is highly innovative in its body design. For both high strength and lightweight balance the chassis and body are made of aluminum. With a curb weight of 3,600 lbs (1620kg) the Roadster is only about 80lbs heavier than the SLS Coupé. The power-to-weight ratio is an outstanding 6.5 pounds per hp.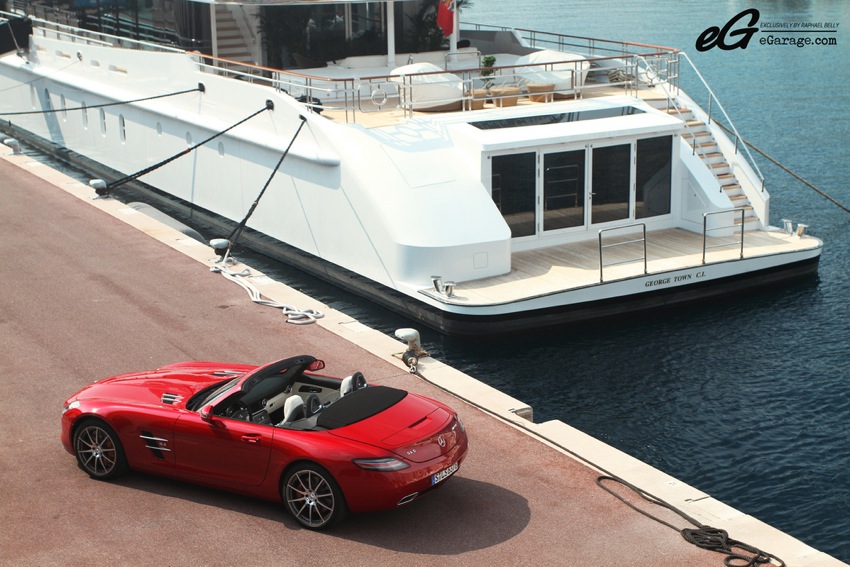 MERCEDES BENZ SLS AMG ROADSTER
Car classification: Supercar/GT
Car body style 2-door Roadster
Front mid-engine rear-wheel drive
Engine: 6.2L V8 engine overhead camshaft
Power: 563 hp at 6800 rpm
Transmission: AMG SPEEDSHIFT DCT 7-speed Dual-clutch Semi-automatic
Wheelbase: 2,680 mm (106 in)
Length: 4,638 mm (182.6 in)
Width: 1,939 mm (76.3 in)
Height: 1,262 mm (49.7 in)
Curb weight: 1,620 kg (3,600 lb)
Wheels: Rims: 9.50 × 19 in (front), 11 × 20 in (rear), forged aluminium
Tires: 265/35 R 19 (front), 295/30 R 20 (rear)
—TO SEE MORE SLS AMG ROADSTER PHOTOS PLEASE VISIT eGarage FLICKR—